Arts & Entertainment
Review: Crosby, Stills & Nash at the Santa Barbara Bowl
Old Songs, New Songs Mixed and Mingled on September 20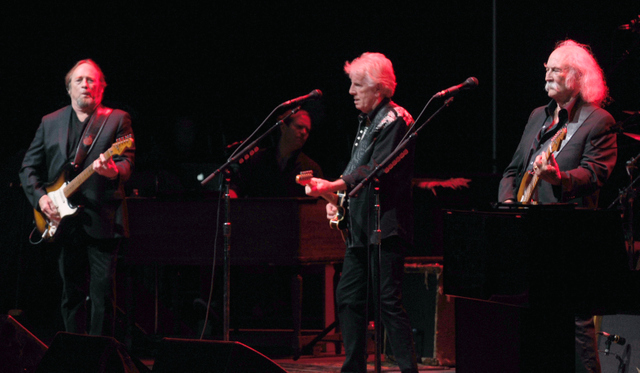 Saturday night was a good night. It mixed new music with the 40 year-old hits; it felt like a snapshot of graying but viable musicians, rather than some boomer oldies romp. Apparently, Stephen Stills' voice is back from whatever limbo imprisoned it when Buffalo Springfield came through town in 2011, and the sober crowd rocked 'til the very end of the generous two-set show, swooning out with "Teach Your Children." But why couldn't it have been more transcendent?
After all, it began with a rush of beauty and the right kind of familiarity. David Crosby grabbed the mike and told us, his homies, to "get your asses up the hill and into these chairs." Then the band broke into a soaring rendition of "Carry On/Questions." The sound was crisp, the voices powerful, and the band punchy with just a smidge of jazz indulgences. The rest of the first set was so strongly bracketed with hits that didn't matter much that it had some filler in the shape of bad solo songs. It ended with a trifecta of anthems — "Our House," "Déjà vu," and "Bluebird," (technically a Springfield song, but who cares). At intermission, the small problems didn't even stick in the mind.
But by the end they added up. The solo bits included some of the worst songs I've heard this year. There was Graham Nash's exhausted, trite "I'm Here for You," and Crosby's unintentionally funny "There's Somebody Home," in which the singing narrator asks a woman to notice that he is looking into her eyes and not at her breasts. People snickered, a woman behind yelled, "Really?"
But the show was mostly great, hitting high points with "Just a Song Before I Go" and "Wooden Ships." It even got a little political. The really great CS&N songs were always the intricate confections with (sometimes silly) lyrics that mesmerized with their images and bouncing pop drive. The new songs, not so much. We want to wonder what's going on under the ground; we want to see how the flowers look in the vase after the fireplace is lit. The rest is just obvious.