Film & TV
Review: Love Is Strange
John Lithgow, Alfred Molina, and Marisa Tomei star in a film written by Ira Sachs and Mauricio Zacharias and directed by Sachs.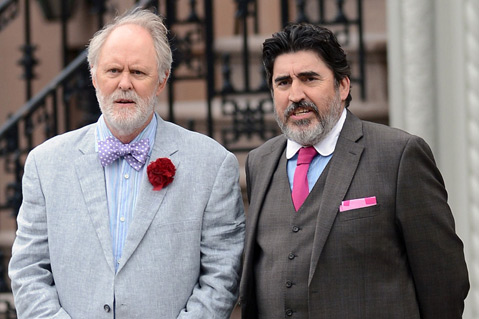 In some ways you could argue that Love Is Strange plays it safe. Ira Sachs's quiet little film drops us into the lives of an older gay couple just as they say "I do" — almost 40 years into their rock-solid relationship. The ceremony is small, and sweet, and the utterly Manhattan-esque company they keep is all smiles and support.
But then things start to take a turn. Music instructor George (Alfred Molina) loses his position at the private Catholic school he's been teaching at for decades due to his nuptials. Retired painter Ben (John Lithgow), meanwhile, is collecting only a paltry pension. Just days into marital bliss, the men are all but forced to sell their home and take up (separate) residence on the couches of friends and family.
What follows is a nuanced look at what happens when you put your loved ones under the microscope. Ben heads to his nephew's home to share a bunk bed with his teenage son. George takes up residence with a younger couple of friends. And we watch as lives bump up against and ping off of one another with varying degrees of tension.
That there are no knock-down, drag-out yelling matches in all of Love Is Strange's 94-minute runtime is just one of the film's many merits. Instead, Sachs coaxes subtly luminous performances out of both of his leads and implores his audience to read between the lines. To their credit, both Molina and Lithgow embody their characters with stunning ease. In one particular scene when George breaks ever so slightly, Molina verges on the brink of revelatory. (Marisa Tomei also does a stellar job as the patient but suffering wife of Ben's nephew.) What Sachs ultimately comes away with is a quietly touching film about love, timing, and the peculiar inner workings of human dynamics. It's no big, bold risk taker, but Strange does manage to deliver strong characters and still feel utterly relatable. And as far as movies go, that's an achievement of the highest order.