Arts & Entertainment
Spotlight On: Angélique Kidjo
Singer, Songwriter, UNICEF Ambassador Returns to UCSB
Those who believe success necessitates versatility could easily point to Angélique Kidjo for proof. The West African–born songstress has long been heralded for her powerful command of the mike, but after three decades of music making, she's become known for so much more. A Grammy Award winner and UNICEF ambassador, Kidjo is practically synonymous with activism and women's rights. While she left home in 1983 to pursue music in France, Kidjo has returned to Africa countless times over, wearing any number of hats. In 2014, Kidjo also added published author to her list of accolades with the release of her memoir, Spirit Rising: My Life, My Music, for HarperCollins.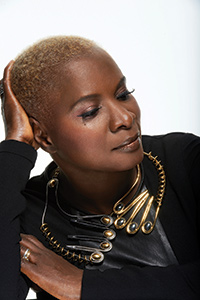 This Saturday, October 4, Kidjo heads back to Santa Barbara for a concert at UCSB in support of her latest musical effort, Eve, a stunning 20-track collection dedicated to her mother, which features an awe-inspiring collection of collaborators and African voices, hand-collected from her homeland.
"When I went to Kenya in 2012, the situation was less dire than when I went with Oxfam to the refugee camps in Chad in 2005," Kidjo recalled recently via phone. "The inspiration [for the record] came from those trips, in the smiles, and the beauty and determination of those women to not be deprived of their humanity. They take a huge pride in being mothers, culture keepers — they are the backbone of my continent."
Armed with a six-track recorder, Kidjo returned to her mother's home country of Benin, teaching and recording the traditional women's choirs there as she traveled. The result is a record that practically explodes with life and stretches the gamut of Kidjo's multipronged musical career, thanks to guest spots from the likes of Dr. John, the contemporary classical Kronos Quartet, and Vampire Weekend guitarist Rostam Batmanglij, just to name a few.
As anyone who's seen Kidjo perform can attest, her presence is unlike any other. But armed with this new, vibrant output, she's sure to exceed even fans' expectations this time out.
Arts & Lectures brings Angélique Kidjo to UCSB's Campbell Hall on Saturday, October 4, at 8 p.m. For tickets and info, call (805) 893-3535 or visit artsandlectures.sa.ucsb.edu.