Dance
Charlie Albright Is Taking Requests
Pianist Swings by the Music Academy on October 15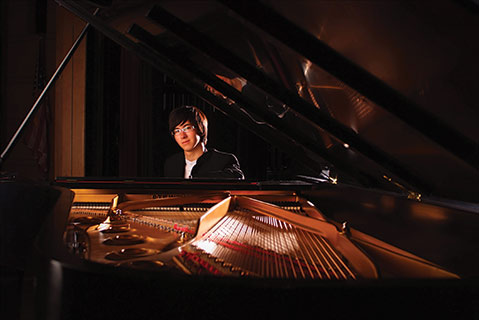 If you're planning to hear pianist Charlie Albright when he makes his Santa Barbara debut Wednesday night, be prepared to shout out a request. But the critically acclaimed 26-year-old won't be seeking suggestions for specific pieces — just individual notes.
If you're a fanatical fan of A-flat, this is your opportunity.
"I started piano when I was 3," Albright explained in an interview from his New York City home. "I did not read a note of music until I was 7. I played entirely by ear — things like the Backstreet Boys and 'Great Balls of Fire.' One of the things I did from the beginning — before I read a note of music — was compose my own themes and improvise.
"I never gave up improvising when I was focusing on classical music, but a few years ago, I started incorporating it into my programs. I thought, 'Why not? It's something that has always been a part of me musically.'
"A couple of mentors of mine suggested I should have audience members choose random notes that create a melody, which I then improvise on. So I started doing that, and it has been tremendous fun. People will shout out, 'F,' 'F-sharp,' 'B,' 'B-flat.' That'll be the melody, and it'll grow out of that."
Albright's recital at the Music Academy of the West, which will be presented by UCSB Arts & Lectures, will also feature plenty of pieces from the standard repertoire, including a set of Chopin études and two Schubert impromptus. But the improvised section (which can last from five to more than 10 minutes) is a good indicator of his disinterest in playing by classical music's conventional rules.
"I think a lot of people who would be interested in going to the symphony or going to a recital — to try something new, if nothing else — are scared off by the traditions that we have in classical music," he said. "Cough and everyone stares at you. Clap between movements of a sonata, and you're shot down with death glances. Who wants that?
"I talk to the audience between every piece and explain what it means to me and what to listen for. At least two or three people have come up to me after every concert [since I began doing that] and told me they loved the fact that I talked. It made the music more accessible for them. It also makes me a lot less nervous! It becomes more of a dialogue — an evening of all of us gathering and sharing music. That's what it's really about."
That populist attitude belies Albright's impressive elitist credentials. A native of Centralia, Washington, he simultaneously attended Harvard University and the New England Conservatory of Music as the first classical pianist in the institutions' joint five-year program. He emerged with a degree in economics from Harvard (he also took some pre-med courses), as well as a master's degree in piano. He recently completed his post-graduate training at The Juilliard School, earning an artist's diploma.
His well-rounded education reflects, in part, his uncertainty over whether he could really make it in a musical career. While that issue has, happily, been settled, Albright has no regrets about the choices he made. "Having a liberal-arts education is critical if you're doing any kind of art," he said. "It's not that it makes you wiser. It's that, when you're so specialized in something, you can get a kind of tunnel vision.
"I loved sitting in the dining halls and talking with people who were super passionate about biology or politics or philosophy. That helped put music into perspective for me. Music has always been a response to, and a dialogue with, the world around it."
4·1·1
UCSB Arts & Lectures presents Charlie Albright in recital at the Music Academy of the West's Hahn Hall on Wednesday, October 15, at 7 p.m. For tickets and info, call (805) 893-3535 or visit artsandlectures.sa.ucsb.edu.