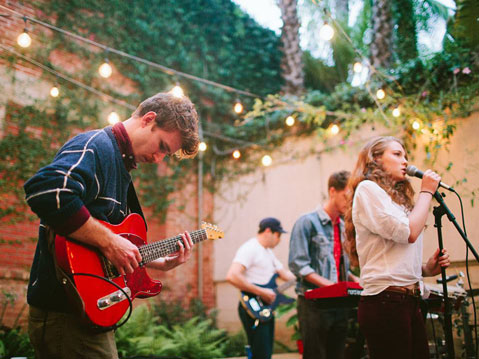 We've all had that night — the one where you stumble into a club to check out a band you've never heard of and they proceed to completely tear the roof off the place. For music fans, those rare moments of pure discovery are the ones that make you want to run home and tell all your friends. (Or, in this case, fruitlessly search the Internet.) They're the moments A&R reps live for. And this year, our most memorable one came in the form of Mångo Mångo. (It's pronounced mahngo-mahngo, by the way.)
Like most good origin stories go nowadays, Mångo Mångo's tale involves a bit of reverse engineering. Begun as a late-night bedroom recording project by bassist/drummer Gordon Palmer Carpenter, the band didn't start taking shape until a full EP's worth of ideas were already in the works. First came keyboardist Zachary Wallace, then drummer/bassist Russ Glick, who together ushered in guitarist Josh Blumenthal. A few band meetings and one well-penned Craigslist ad later, the guys brought singer Anna Kasper on board.
As for the sound, it's a silky union of '80s synth pop and new-school disco that prides itself on being fun loving and danceable. "It's not Saturday Night Fever disco. It's more invite your friends over, have a couple glasses of wine, and everyone's wearing sweater-vests and turtlenecks. … we like the dancier side of Luther Vandross," laughs Carpenter, who cites George Benson, Patrice Rushen, and Miami Vice (the original one) as inspiration.
Whoever Mångo Mångo's muse is, she seems to be working. Just two shows into their tenure as a band, the quintet thoroughly killed as the opening act to Norwegian electro wizards Lemaitre. And next weekend, they'll take to the big stage as part of New Noise 2014's Block Party, a bill which also features indie heavyweights like Cherub and The Pains of Being Pure at Heart — not too shabby for a band that, up until recently, didn't have a Facebook page.
"The Block Party is way big," says Carpenter sheepishly. "I mean, who gets to play a show like that two months after getting onstage in a club where literally no one knows who you are?"
Not many. But if our first meeting was any indication, a whole lot of people are about to start talking about Mångo Mångo. Visit facebook.com/mangomangoband.