Visual Arts
Review: Barton Myers: Works of Architecture and Urbanism
UCSB's AD&A Museum Hosts this Collection through December 12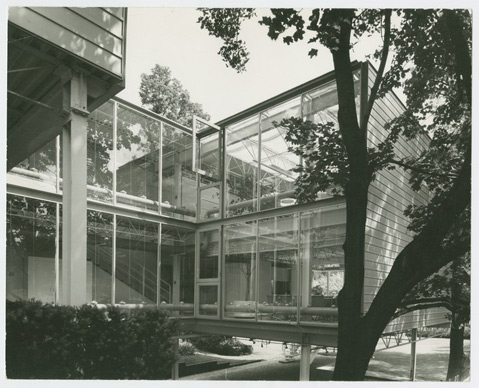 Architecture is more of a team sport than the kind of artistic output you would usually find inside a museum. The architect is the coach whose team of draftsmen, renderers, model makers, and photographers create the artifacts of their trade, which lead up to the final structural achievement. A beautiful selection of such artifacts from the work of architect Barton Myers is on display at UCSB's Art, Design & Architecture Museum from now until December 12.
Starting in the late 1960s, Myers established himself as one of the pioneers of a design philosophy that opted for the creative reuse of existing historic structures through frequently abrupt juxtapositions of old and new architectural elements. While the results could have been jarring, Barton managed to create a beautiful balance of respect for historic preservation and a deep concern for the experience of modern urban living. Today we call this kind of urban planning interesting and intelligent; in 1968, it was revolutionary.
As Myers's reputation grew, so did the size of his projects. Myers has completed eight theaters and performance halls around the country, including the Cerritos Center for the Performing Arts, which features interior hydraulics that can radically change the interior space from a 2,000-seat concert hall to a 1,000-seat black box. In addition to these art centers, Myers has taken on many large civic projects, many of which feature the creative adaptation for which he is best known. Whether large or small, the unifying quality of Myers's work is not so much an aesthetic similarity as it is a philosophical dedication to the harmonious combination of diverse themes with a goal of creating a dramatic and functional public space.
That said, the four private homes featured here are also some of the most exciting factions of the exhibit. Perhaps because the revolutionary elements of Myers's public buildings have become so widely adopted in the intervening 40 years, they don't seem to have quite the impact of his more recent glass and steel homes. Starting with the design of his own home in the Toro Canyon area in the late 1990s, Myers began a series of ultramodern homes that feature rollaway aluminum walls that allow for an entire side of the structure to be retracted, blurring the distinction between indoor and outdoor space. Having been fortunate enough to tour one of these homes, I can say it is an incredible and unforgettable experience. It's an idea that is simultaneously mind-blowing and yet so intuitively simple that you can't believe it hasn't been done before.
The problem with architecture exhibitions has always been that you can never get this experience in the exhibition itself. No matter how well anyone describes their familiarity with a building, it will never be the same as being there yourself. While this is certainly true in this current exhibition, the collection of drawings, schematics, photos, and models is impressive in its own right. It is a relatively large show that is beautifully curated, and there is an immense amount to be learned about Myers and his career from the didactics that accompany the displays. Take your time, and soak it all in; it's a very rewarding education.