Film & TV
Review: White Bird in a Blizzard
Shailene Woodley, Eva Green, and Christopher Meloni star in a film written by Gregg Araki, based on the novel by Laura Kasischke, and directed by Araki.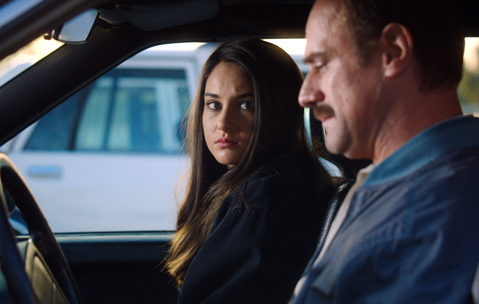 Taken at its surface, White Bird in a Blizzard has plenty working in its favor. The story, based on the novel by Laura Kasischke, revolves around Kat Connor (Shailene Woodley), a 17-year-old girl who returns home from school one day to find her mother has vanished. As the film unfolds in a series of flashbacks, mom Eve (Eva Green) is revealed to be a stunning, seemingly model housewife who's been emotionally beaten down by her mundane life. Meanwhile, dad (Christopher Meloni) comes across as hardworking but relatively oblivious to both his wife's bubbling meltdown and his daughter's troubles in the wake of mom's disappearance. In the meantime, we expect Blizzard to spiral out into the Unsolved Mysteries–style suburban whodunnit that the plot would suggest. But instead we get an hour of confused hardheartedness.
It's hard not to blame writer/director Gregg Araki for Blizzard's many missteps. In the last two and a half decades, Araki has worked almost exclusively in these realms (see The Doom Generation, Mysterious Skin, Kaboom), making him something of an expert in the messed-up worlds of teenage angst, sexual thrills, and suburban tumult. But instead of milking these ripe centers for drama, he gets lost in his one-dimensional characters.
For what it's worth, Woodley and Green both turn in stunning performances here. Even as Kat stoically pushes on without her mother, bouncing between sexual partners and apathetic therapy sessions, Woodley imparts on her a palpable naturalism that almost makes us accept Kat's non-feelings as something believable. Meanwhile, Green, shown almost exclusively in flashbacks, instills a flamboyant rage in Eve that's nothing short of captivating.
In its final minutes, White Bird in a Blizzard finally rises to the occasion, delivering a screwed-up and thoroughly troubling ending that's both shocking and, strangely, kind of expected. But after an hour of character study that doesn't really reveal anything about the characters, it's tough to get behind the twist, let alone be invested in it.