Arts & Entertainment
The Santa Barbara Bowl Revives Día de los Muertos
Café Tacvba Headlines the Second Annual, Community-Wide Event
For those in attendance, last November 1 at the Santa Barbara Bowl got weird ​— ​truly and wonderfully weird. The sandstone-studded castle of rock 'n' roll atop Milpas Street was transformed that night into an otherworldly version of itself. The shadows grew darker as a creepy air of unexpectedness settled in. Employees and volunteers alike donned sugar-skull face paint, sculpted skeletons more than 20 feet tall rose up from the floor, Aztec dancers mystically gathered in the courtyard, a flash mob of zombies and calaveras broke into a rendition of "Thriller" near the main stage. Then, of course, there was Tame Impala and the Flaming Lips, the two bands delivering power-packed and stirring psychedelic performances, the latter taking things to a whole new level of spooky when frontman Wayne Coyne kicked off his set by "giving birth" onstage and being showered in blood by a Miley Cyrus lookalike riding a man in a bear suit just before having cannons blast the entire place with a pink confetti blizzard. It was the Bowl's first ever celebration of Día de los Muertos, and it was a fantastic and stirring success.
I will never forget winding my way out of the show that night, drifting along as if in a spell, and coming upon the warm glow of a large ofrenda in Jerry's Glen. The altar, which featured photographic tributes to all the artists who had played on the Bowl's stage at one point in their careers but had since moved on to that big music venue in the sky, had a small and solemn crowd around it. Alf and a few skeletons and a Jamaican bobsledder stood alongside a handful of other more normally dressed people, the eclectic gathering universally transfixed. The heavy quiet of the scene was mesmerizing, the world feeling eerily new and comforting all at once. It was then, pausing ourselves to take in the display, that my wife squeezed my hand and spoke softly in my ear, "Wow, this is incredible. I hope they do this again."
Sowing the Seeds of Tradition
What often gets overlooked in the Bowl's annual lineup of music and the scores of area and interloping concertgoers buzzing around it is the fact that the venue itself was never intended to be what it is today. More than 75 years ago, a team of visionaries, working to help rebuild Santa Barbara in the wake of the devastating 1925 earthquake, handpicked the location, then an otherwise nondescript 17-acre swath of creek-kissed and oak- and sycamore-dappled hills known as Quail Canyon, to be built out as a community gathering place and epicenter for the then-fledgling Old Spanish Days Fiesta celebrations. Eventually money from President Franklin D. Roosevelt's New Deal made it possible, and in 1936, the Bowl was built. Soon enough, the open-air, coliseum-like structure with a large rotating wooden stage at its center was the home of Fiesta. And so it went for the early years at the Bowl that torch-toting men on horseback would ride into the amphitheater during elaborate bacchanals at the close of Fiesta each year. The community was invited to the celebration, and numerous others like it throughout the year. It was a far cry from the sold-out $150-a-ticket shows that attract deep-pocketed music lovers nowadays, accounting for much of the Bowl's annual lineup.
"The Bowl was created to be the home of Fiesta, a true community gathering place," explained Moss Jacobs in between bites of a fish taco while sitting on the outside patio of The Shop Café on Milpas Street a few weeks back. As the VP of talent for Nederlander Concerts, the outfit that books all of the Bowl's shows, Jacobs is one of the masterminds behind the venue's second annual Día de los Muertos (Day of the Dead) celebrations. "The idea is to put on a show that gets back to that, to those roots and the community we are in," added Jacobs with a motion of his hands, gesturing toward the bustling and largely Latino Eastside neighborhood that surrounded us. To that end, he teamed up with longtime friend and part-time S.B. resident Nicole Alejandra Pierpont to organize last year's inaugural event, Jacobs providing the muscle power and industry savvy to make the concert possible while Pierpont maintained the heart and soul of the operation.
Born on November 1 to an El Salvadorian mom and Mexican-American dad and raised throughout Central America, Pierpont has long known the wonders and importance of multigenerational remembrance and celebration. "The holiday has always had a lot of meaning for me," said Pierpont with a smile and a marked hint of understatement during that same lunch. "I think I have been talking to Moss about trying to do something like this here at the Bowl since I met him 15 years ago."
And so, with Pierpont living in the southernmost parts of Baja, Mexico, the duo co-conspired to celebrate the Day of the Dead with last year's Flaming Lips/Tame Impala show. The bands were booked, and with less than four weeks' notice, Pierpont arranged for all the other elements to come together, from the face-painting and dancing to the skull-bedazzled lowrider bicycle display and the altar in the Glen. "I was still living in Mexico, so last year was more of an experiment than anything, to see if people would actually be interested in participating," she said. "This year we are taking all of that magic that happened and turning it up. Way up."
First off, while Tame Impala and the Lips (the latter especially) were more than game to play up the Día de los Muertos vibe, the two are not necessarily the first bands that come to mind when booking talent for a proper Day of the Dead show. This year, however, Jacobs was in perfect step with the cultural bend of the holiday when he signed on legendary Mexican rock outfit Café Tacvba to headline this Saturday's show, a group that not only has a musical relevance over the past three decades that is surpassed by few others in the international industry but also is considered, by those in the know, as quite a coup to be playing a venue as intimate as the Bowl. Joining them on the bill is Los Angeles–based Chicano folk rockers Las Cafeteras, an act that purely captivates and motivates some serious ass shaking (no matter your language barrier), as well as the always energetic and genre-busting, multicultural dance party makers Ozomatli and Ventura's Veracruz harp-led ambient rockers Hy Brasil (led by Xoco Moraza of Rey Fresco fame). And, as if that weren't enough titillation for your ears, longtime KPFK disc jockey Carlos Niño will be spinning his trademark blend of mystical Día de los Muertos beats (he has been hosting an annual Day of the Dead radio show for years) in the Glen during set breaks.
"This is definitely a dream lineup for the occasion," said Jacobs, something I considered to be a throwaway sort of qualifier from a promoter until just a few days later when, while waiting to order some late-morning eats at Tacos El Rey on Haley Street, I watched a man and a woman both break into disbelieving joy after reading the lineup out loud to each other off a flyer on the restaurant's wall. I cannot be certain, but I suspect that was the first time that couple had been screech-out-loud-in-public excited about a Bowl show.
Skulls and Whistles
But the music is only half of it. Since the end of last year's show, Pierpont has been working overtime to elevate the 2014 edition into a full-bore cultural event. The Bowl will once again be decked out in traditional Día de los Muertos decorations thanks to artists like Eric Lehman, Michael Matheson, Armando de la Rocha, and a few of Solstice's big hitter puppeteers. Face painting will be available for those wishing to be transformed. The altar paying homage to musicians past will be back in the Glen, along with several others made by a variety of area organizations such as the Santa Barbara Museum of Art, the Mariachi Festival, KCSB 91.9 FM, Casa Dolores, Art from Scrap, and the Adelante Charter School. (As an added bonus — and as means to make the event more accessible to those who may not be able to afford the cover charge — the Glen and the baker's dozen of custom-crafted community altars will be open to the public free of charge on the afternoon of Sunday, November 2.) A seldom-seen collection of larger-than-life Fiesta masks from the mid-20th century will be on display thanks to the Profant Foundation. Ben Aparicio will once again be bringing a team of fully costumed Aztec dancers, and there will also be a traditional Los Chinelos de Morelos dance performance. Even the zombies of World Dance for Humanity will be back for a surprise show at some point in the evening, along with wandering mariachi bands and a handful of other undisclosed potentially magic moments.
"The performances aren't just limited to the stage on a night like Día de Los Muertos," said Pierpont. "They can happen anywhere."
Also planned is a costumed bike ride à la Bike Moves that will start at 3 p.m. at Vera Cruz Park and finish in the Bowl parking lot just prior to the concert's kickoff. The haunted pedal will feature a rolling escort from the Brawlin' Betties and free tickets to the show for the best three costumes in attendance. Santa Barbara High School's Don Riders will also be on the scene with a display of custom, tricked-out lowrider bicycles, complete with welded skulls, Day of the Dead–inspired paint jobs, and a large coffin and mirror display that has to be seen to be truly appreciated. The involvement of the Don Riders, a popular skill-building and mentor program for at-risk students, is the perfect example of what Jacobs, Pierpont, and company are trying to accomplish with the event.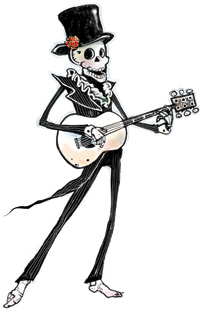 "We did a small presentation last year, just threw a couple bikes up and made things looks eerie," said the Riders' faculty liaison Pedro Menchaca. "The kids had a blast showing off their work and being at the Bowl, so we decided to take it to the next level this year. They are pretty excited. … Lots of these kids know about the Bowl, walk by it every day, and hear music coming out of it at night, but they've never actually been inside. Now they get to go there and be a part of it. It's a pretty cool thing. I mean, we're already working on next year's."
And the Riders aren't the only ones eyeing Día de los Muertos 2015. Even Jacobs and Pierpont, though still very much in the throes of putting this year's event together, have focused their attention on the next phase of this fast-forming Bowl tradition
"Our vision for 2015 is to have a return of the torch-light processional. Can you imagine that?" beamed Jacobs as he finished his tacos. "A parade of skeletons and hundreds of torches coming up Milpas toward the Bowl on the Day of the Dead ​— ​how cool would that be?"
4•1•1
The Santa Barbara Bowl's second annual Día de Los Muertos Celebration featuring Café Tacvba, Ozomatli, Las Cafeteras, Hy Brasil, Carlos Niño, and DJ Tropicaza takes place Saturday, November 1, at 5 p.m. For tickets and info, call 962-7411 or visit sbbowl.com.
–