Dance
Review: Ballet Boyz at Campbell Hall
UCSB Arts & Lectures Hosted All-Male Company on November 1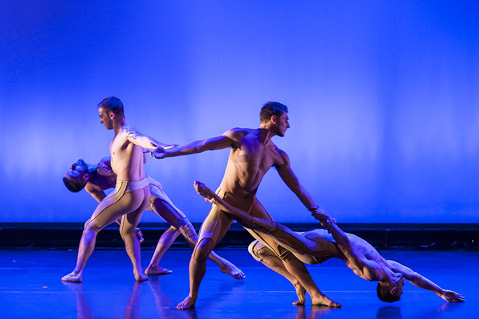 UCSB Arts & Lectures brought British dance company BalletBoyz to Santa Barbara, and Santa Barbara loved them — as evidenced by a wholesale standing ovation following the second of two long, virtuosic contemporary dance works.
Each work — Serpent and Fallen — was introduced by a short film, where the audience got to hear choreographers Liam Scarlett and Russell Maliphant describe the process of working with the company. With pastiches of rehearsal clips in black and white and color, the audience got a welcome glimpse of the group's intelligence, focus, humanity, and humor before settling in to absorb each work.
In Serpent, ten shirtless men in buff-colored tights moved sinuously and constantly, bathed in shifting color schemes of blue, red, and yellow. Max Richter's symphonic score helped cultivate a sense of fluidity and suppleness that was underlaid by what Scarlett described as "deadly attack" — a tension between lyrical beauty and sheer animal power.
Fallen was accompanied by a percussive score by French composer Armand Amar, giving the piece an almost militaristic sense of drive. The men were costumed in more pedestrian dark, loose pants and t-shirts; they crouched, scooted, and engaged in stylized hand-to-hand combat. They fell into fast-moving circular formations in low circle chugs and pivots, swiveling and rolling. Inventive lighting threw tall silhouettes onto the walls on either side of the proscenium.
Having been a dancer myself, I know how challenging it is to get the energy between moving bodies to coalesce. A kind of magic happens when two or more bodies glide, roll, jump, or dive into the same trajectory, and then continue along, unfolding the movement potential of four limbs, one head, and one trunk into double or triple that quantity, or more. Something well beyond the sum of those parts tends to unfurl when this is done skillfully. In each of the works presented at Campbell Hall on Saturday, moments like these came almost faster than the audience could take them in, and the overall effect was mesmerizing. Dancers lifted and threw and released each other. They shouldered and dropped and spun each other. They used one another's bent legs as pedestals for sweeping rond de jambs (leg circles) that whizzed over heads. They flipped one another upside down. Three men soared in turning leaps in unison across the backs of three other men, the men at bottom used as platforms for the leapers to push up and across. In the mix, with all those bodies in a relatively small space, there was not a single collision or missed step. It was a triumph of virtuosity that could easily be under-appreciated because of its flawless execution.