Film & TV
Review: Birdman or (The Unexpected Virtue of Ignorance)
Michael Keaton, Edward Norton, and Emma Stone star in a film written and directed by Alejandro González Iñárritu.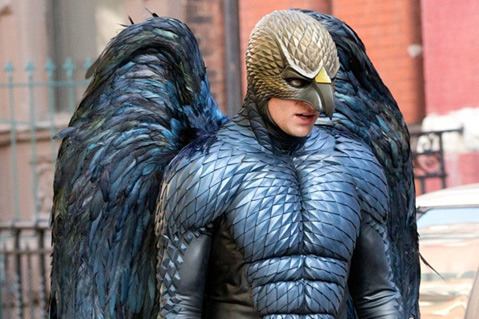 Birdman is a lot bigger than its in-jokes and a lot smaller than its faux philosophies suggest. Its discussion on the nature of fame and time is glancing, and it doesn't really work as satire. The reason to love this film lies almost completely in its performances. Local boy Michael Keaton furnishes the most brilliant turn as an actor once famous for being a masked crusader, who's now embarking on a comeback voyage (this is the main in-joke) by way of a Broadway premiere based on Raymond Carver stories. Keaton was always an adventurous actor, and his quick swivels from pensive artiste to complete loon are pure pleasure to watch. Likewise, Edward Norton, who turns on a dime from narcissist to truth teller, mirrors the smooth glide of the whole film, which vacillates between lyrical and nuts. And the women are even more impressive. Emma Stone's heated absent-father soliloquy gets punctuated with a close-up of her beautiful popping eyes, while Andrea Riseborough lends a sensual gravity to every crazy scene she crosses.
By now you've probably heard that Birdman was edited to appear as if it were shot in one long take, à la Rope. The camera's swoops and dives and stalking arcs supply more than just daring cinematography (although gossip suggests writer/director Alejandro González Iñárritu was just trying to outdo his friend Alfonso Cuarón's Gravity). No matter, because quite often this dizzy documenting style breaks into fantastic ground.
Iñárritu is not a great thinker, and this movie is built on a lot of negotiable notions, like the moral superiority of Broadway over Hollywood or the sadistic nature of theater critics. Yet Birdman ultimately transcends its dumber ideas. When we finally realize what all these paradoxes equal — and why Keaton's character can suddenly fly and use psychokinetic powers — the movie wakes us up. It steals from great filmmakers like Fellini, Hitchcock, and Godard, but for reasons that have more to do with James Joyce and Buster Keaton. "The Unexpected Virtue of Ignorance" of the subtitle is what happens when these dark, fun, scary surprises pop into our minds