Firestone-Walker XVIII Anniversary Ale: In what's arguably the coolest brewery-meets-winery occurrence happening on the West Coast, Firestone's Matt Bryndilson again invited 14 esteemed winemakers to develop a special brew as their annual Anniversary Ale release, now a tradition nine years old (though the brewery is going on 18 years).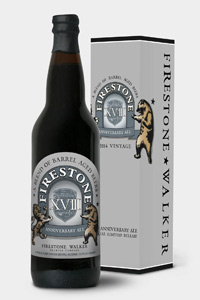 The winning mix, prepared by Russell From and Philip Muzzy of Herman Story Wines, features mostly beers aged in used whiskey, bourbon, and brandy barrels, specifically 38% Parabola ( a Russian imperial oatmeal stout), 16% Helldorado (a blond barleywine with buckwheat honey), 16% Bravo (an imperial brown ale), 14% Stickee Monkee (a quadrupel with Belgian candi and Mexican turbinado sugar), 5% Velvet Merkin (oatmeal stout), 4% Hydra Cuvee (a dark ale brewed with Flying Dog), 3% Wookey Jack (a black rye IPA), 2% Ol' Leghorn (blonde barleywine brewed with 3 Floyds), and 2% Double Jack (a double IPA).
The result is a complex, dark, and brooding mouthful of 13% ale, full of chocolate, raisins, and delicious barrel influence.
See firestonebeer.com.