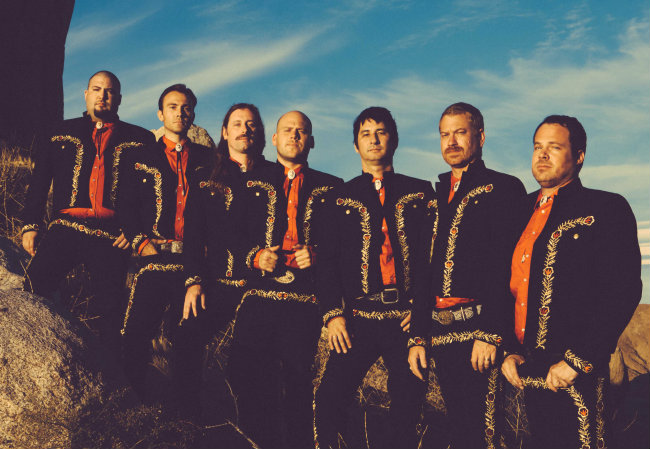 UN, DOS, TRES: Genres? Labels? Who needs 'em? Certainly not Mariachi El Bronx, the Latin-leaning alter ego of Los Angeles punk act The Bronx. On the band's third self-titled album (III), out this week via White Drugs/ATO Records, MEB offers up 10 empowered new tracks that confidently marry traditional mariachi arrangements and melodies with a swirling mix of vintage synths and sequencers. The result is a record that owns its more triumphant (and sometimes bombast) moments proudly. In their punk rock amalgamation, these guys have consistently come out swinging — the guitars are relentless, the screams are guttural, and the amps are cranked to 11. While MEB is nowhere near as in-your-face, the confidence that trickles through both outfits is worth noting. It's also a big part of the reason III works so well.
This Friday, November 7, Mariachi El Bronx returns to the 805 for a show at Velvet Jones with Tijuana Panthers and Pounded by the Surf. The show starts at 8 p.m. Visit nightout.com/events/mariachielbronx for tickets and details.
DRINK UP: Also this week, the Majestic Ventura Theater is playing host to the South Coast return of Flatbush Zombies and The Underachievers, two of hip-hop's hottest acts from — you guessed it — Flatbush, Brooklyn. Both groups are operating slightly to the left of the mainstream hip-hop dial and doing a killer job of representing New York as the genre's most forward-thinking hotbed of the moment. What it means? Wormy, psychedelic beats, whip-smart lyrics, and whip-fast rhymes. In short, there's a reason they're calling it "Beast Coast." Flatbush Zombies and The Underachievers take to Ventura on Friday, November 7 as part of their "Electric Koolade Experience." The show starts at 8 p.m. and is all-ages. Come thirsty, kiddos.
WORTH THE DRIVE: This month also brings with it the mother of all carpool months for Santa Barbara residents looking to get their music on. Every day in November, the late-night-drive sustainers at Red Bull Sound Select are presenting 30 Days in L.A., a month-long, multi-venue deluge of truly great live shows. Want to see Run the Jewels? Chance the Rapper? Future Islands? Real Estate? A$AP Mob? Juicy J? I think you're getting the idea. For a full lineup and tickets, visit redbullsoundselect.com/30days. Then call your buddy with the Prius and start planning.
SAYING GOOD-BYE: On a somber note, it's with a heavy heart that I have to report the untimely passing of Michael Astudillo. The Mutineers guitarist, Seven Bar & Kitchen owner, and longtime flag bearer for the Santa Barbara music scene left us too soon, but he leaves behind a truly larger-than-life legacy. This Sunday, friends, family, fans, and community members are invited to the Santa Barbara Art Foundry (120 Santa Barbara St.) from 12-3 p.m. to celebrate Michael's life. The hours of 12-2 p.m. will be open time for family and friends to gather, remember, support and mourn with one another. A short ceremony will follow.