Arts & Entertainment
wild Up Is Making Music That Matters
UCSB Arts & Lectures Brings Christopher Rountree to Hahn Hall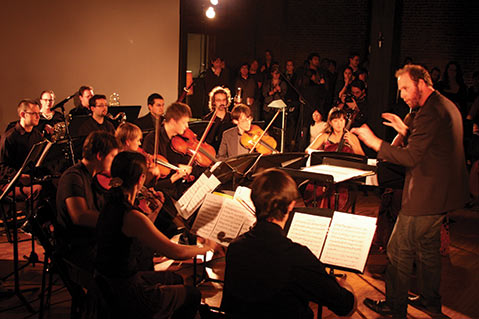 It's unusual for a local faculty member to earn a slot in the UCSB Arts & Lectures program, which has grown into a formidable depot for cosmopolitan VIPs of music, dance, and diction. But conducting professor Christopher Rountree and his edgy wild Up chamber ensemble have been rapidly making their presence felt in the fertile art world of Los Angeles. Since its founding four years ago, the L.A.-based musicians' collective has become a significant force for new music and avant-garde approaches to programming. The ensemble formed a solid relationship early on with the Hammer Museum. Last year, opportunities opened that included gigs at REDCAT, Zipper Hall, and the Natural History Museum of Los Angeles. This past April, wild Up performed in the Walt Disney Concert Hall with the Los Angeles Philharmonic, and special guests included John Adams, the International Contemporary Orchestra, the Calder Quartet, and Shara Worden. This summer found wild Up in Reykjavík for a concert and recording session with the all-female Icelandic choir Graduale Nobili. Los Angeles Times critic Mark Swed has sung wild Up's praises, comparing it with Brooklyn's ICE (International Contemporary Ensemble): "These ensembles exemplify the irrepressible urge to make music that matters and to find ways of doing it that radically upend old institutional models."
Rountree, whose conducting dance card includes the Los Angeles Chamber Orchestra, the San Diego Symphony, and the Colorado Symphony, is excited to see wild Up's presence extend to Santa Barbara and beyond. He spoke to The Santa Barbara Independent by phone to discuss the ensemble, new classical music, and the upcoming program at Hahn Hall called Pulp.
Tell us about wild Up. The question of what is the future of orchestra, and what is the future of classical music, is probably at the center of what wild Up does. I left graduate school in 2009 — I went to the University of Michigan for orchestral conducting — and I wasn't really sure what I wanted to make. Through some great luck, I found a lot of like-minded people in L.A., and we founded wild Up with an awareness of a system that is not working. And that's not so negative; what we did was affirm something positive. It was more like, "How can we make orchestra more fun?"
I think there is this huge groundswell of energy that's happening in new classical music and even more in new chamber music. In wild Up, we have this strange overlap: part chamber ensemble, part chamber orchestra, part incredible avant-garde — we love noise music — part performance-art organization, and part theater troupe. So we do all these different functions. It feels like a really fruitful moment to be making the work we're making.
What's the concept behind Pulp? We're interested in exploring different relationships between very diverse music. Pulp means, on the one hand, pulp fiction, something that's topical and just there. In that way, the word leads us to think of wallpaper music. Things can get really interesting when you make wallpaper music concert music. Because it's very repetitive, it has this way of making you more aware of the details, instead of the way we normally hear wallpaper music without the details. And, on the opposite, there is a great cadence between that and the idea of pulping an orange or beating something to a pulp. That's where we bring in John Zorn and Nick Deyoe.
When you're putting together a concert like this, it's so much different from the way you want to put together a classical concert. We almost don't want to publish our programs. There's this thing in classical music where you go to see the program, and what we really want people to experience is going to see the entire immersive event and to think of it more like a podcast. If we got close to making our shows feel like This American Life or Radiolab, we would be absolutely successful.
4·1·1
UCSB Arts & Lectures presents wild Up at the Music Academy of the West's Hahn Hall (1070 Fairview Rd.) on Saturday, November 8, at 7 p.m. Call (805) 893-3535 or visit artsandlectures.sa.ucsb.edu for tickets and info.