Theater
Boxtales Theatre Company Turns 20
Myth Specialists Return to the Lobero Theatre to Celebrate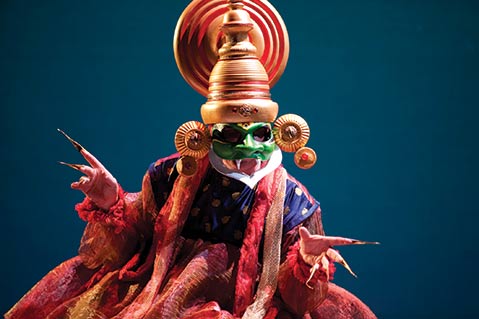 Mythology often addresses beginnings, so it isn't all that surprising that Boxtales Theatre Company has a creation myth of its own. Twenty years ago, the Lobero Theatre Foundation, under then-executive director Nancy R. Lynn, wished to create a storytelling performance piece for the Santa Barbara school system as part of its Literary Arts Outreach Program. Performer Michael Katz and movement expert Joseph Velasco were hired, but requiring additional help with music, the pair went in search of a musician rumored to have skills with exotic indigenous instruments. "One of the myths is they found me after a naked drumming party," said Boxtales executive director Michael Andrews, poker-faced, "at the beach under a big pile of kelp." Whether the story is true or lifted from a Joseph Campbell book under the heading "The Hero Emerges from the Wild," the world may never know.
Other facts are better established. By the time Katz and Velasco recruited him in 1994, Andrews had been performing music and acting with Lit Moon Theatre Company. That same year, he founded Area 51, a favorite area dance band specializing in funk, soul, and R&B. However versatile and ambitious, the heart of Andrews — who happens to be the grandson of the late Alan Watts, British-born writer and lecturer on Asian mysticism — remains firmly rooted in a conviction that ancient stories matter to education and personal development.
The Lobero project, How Did That Get Here? Creation Myths from Around the World, was so successful that the trio quickly realized this onetime project was, in reality, the foundation for a new theater company and a whole new approach to children's drama.
Boxtales is unique in a number of ways. First, the company performs only original works based on mythology and folk stories. Second, its physical approach combines mime, acrobatics, juggling, dance, Brazilian capoeira, and live music. Next are the masks and puppetry, strange and wonderful artifacts constructed especially for the troupe. Finally, its pared-down approach balances the spectacle of theater with the intimacy of storytelling. Although based in Santa Barbara, Boxtales is in fact a touring professional company, serving surrounding cities, the Bay Area, and even Olympia, Washington.
In celebration of its 20th anniversary, Boxtales will return to the Lobero Theatre to stage four newly upgraded shows from its repertory this weekend: Prince Rama and the Monkey King, The Odyssey, Leyendas de Duende: Magical Tales of Latin America, and Br'er Rabbit and Other Trickster Tales. The Santa Barbara Independent recently caught up with Andrews and company principals Matthew Tavianini and Marie Ponce to discuss the big milestone.
What does 20 years mean in mythological time?
Michael Andrews: Twenty years is a day; 20 years is a moment. Most mythological stories use time that way. Like, "On the first day he could speak; on the second day he could walk and run; on the third day he refused his mother's milk; and on the fifth day he was ready to go hunting" — that kind of thing. But I might also look at it in the sense of this last 20 years, which is very unique in history, because of where we are now as a society. We really pay attention to that stuff; that's what our job is. What we're trying to do is mine relevance out of old stories for a modern world.
Matthew Tavianini: I'm just thinking about my time and how my doing this has changed in 13 years. I've changed, the world's changed, and I've found more of a connection now as to why I do this. I think it has to do with electronics and how our kids are becoming so out of touch with human connection and communication. This work, where we're actually live people onstage, looking into somebody's eyes and engaging them in the storytelling — which is the oldest tradition in the world — has meaning and purpose.
Would you describe Boxtales as "children's theater"?
MA: We base our work in the innate intelligence of children. We believe that kids are born smart, so we don't want to talk down to them, we don't want to shame them, or we don't want to act like they're not brilliant, because they are. It's not "kiddie." It's a little bit more akin to European children's theater. In America, we developed a high voice with our kids — and we stayed there — from some of those early TV shows, like Howdy Doody. The quality was just not there.
What about elements of rawness, cruelty, and ambiguity in "teaching tales"?
Marie Ponce: We never shy away from the juice — that's one thing I will say about Boxtales. I remember the first time building a show, thinking, "Can we say this? Isn't that a little [risky]?" But it's not! Having that attitude is why the company has thrived for so many years. We don't dumb anything down. We bring in these stories that are messy and gnarly and ask really important questions and sometimes don't answer them. That's important; it will scratch the brain of anyone, child or not.
4·1·1
Boxtales Theatre Company's 20th Anniversary Festival takes place at the Lobero Theatre (33 E. Canon Perdido St.) Thursday-Sunday, November 13-16. For tickets and info, call (805) 966-4946 or visit lobero.com. For more on Boxtales Theatre Company, visit boxtales.org.