Outdoors
Visiting an Old, Gross Marijuana Grow
Littered in the Remote Figueroa Mountain Foothills Are Remnants of a Lucrative and Dangerous Business
On September 20, 2013, Joel Lopez and Cipriano Torres were about to begin another day of harvesting their secret cannabis crop on a Santa Barbara hillside. It was a half-hour before sunrise, and the meandering field carved into a steep Happy Canyon slope was inky and cool; the men hunkered down among the scrub oak and chaparral.
Above them, a team of Sheriff's detectives and Forest Service officers kept watch, and as the wind started to gust up the hill, they let loose their dogs. After a short and frantic chase, Lopez and Torres were arrested. Two rifles were recovered nearby. The team also seized 100 pounds of processed marijuana worth $250,000, and they estimated the site contained as many as 1,600 plants at one point.
Two weeks earlier, a deer hunter scouting the area had spotted a man in camouflage looking over his shoulder and covering his tracks as he walked along a nearby trail. The hunter contacted authorities, who pinpointed the grow before the early morning raid. Lopez, 28, and Torres, 38, would each plead no contest to felony marijuana cultivation and gun charges, and they were sentenced to 120 days in jail and five years of probation. Both have since been deported.
Lopez told prosecutors that he had been living and working at the site for approximately six months and that he was going to be paid five percent of the grow's total yield. He was hired shortly after arriving illegally in the United States from Mexico. Torres was at the garden for five months. He was told he would make between $15,000 and $20,000, depending on the total profit, and that the harvested marijuana was bound for Los Angeles.
While it's been more than a year since the Happy Canyon bust, remnants of the pair's improvised but elaborate operation are still scattered up and down the swath of National Forest land. And for the first time in a long time, federal officials allowed members of the Santa Barbara media to tour the site last Friday as volunteers with Los Padres ForestWatch cleared it of leftover trash.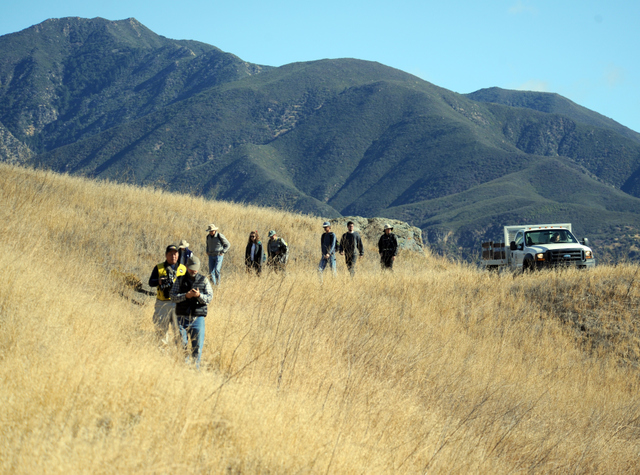 During a short briefing over coffee and bagels at the ranger station off Paradise Road, armed Forest Service officers in tree-green uniforms explained to the group that they would scout ahead to secure the grow area before the rest of the civilians tromped through. If we saw anyone who "didn't look like us," they advised, we should notify them immediately. The other potential dangers included rugged terrain, poison oak, and toxic fertilizers and herbicides discarded by the growers, they said.
With that, our convoy headed onto Highway 154 toward Buellton, turned along Armour Ranch Road, and took a right on Happy Canyon Road that snaked past a few ranches and along a ridgeline. (During Prohibition, bootleggers distilled moonshine in the wooded backcountry. Legend has it that buyers would say they were going to "take a trip up Happy Canyon" and that the name stuck.) We stopped at the Chicken Springs shooting range and set out on a dirt road that turned into a trail, which crossed a brittle grass field, dropped down a shaley slope, and went straight through a barbed-wire fence. The site, about a mile off the road, lay just inside a tree line, completely hidden from view until we stepped into it.
Officials said the grow was probably set up a few years ago and that Lopez and Torres's predecessors chose the location because it lies just below a natural spring and is situated on a south-facing slope that gets good sun. The pocket also has strong cell reception — crucial for coordinating drop-offs of supplies and pickups of merchandise — and is relatively isolated without being too far out of the way. Some Forest Service officers, however, expressed surprise that the site was created so close to a well-used road. Most are more remote, they said.
The field itself is terraced into individual little garden areas shielded from view and wind by stacks of branches on their south sides. A sophisticated irrigation system of tubing and tarps at one point wove through the site, sucking water from the spring by gravity and via a battery-operated pump. The growers had cleared much of the area's thick chaparral but intentionally left some to provide cover from the air. "These people are smart," remarked one officer. "They make something happen with nothing."
Though more than 500 pounds of old drip lines and trash had already been removed from the site, our group still came across a mess of abandoned debris. Along the grow's winding internal trail were bottles of fertilizer — many of them from Mexico and illegal in the U.S. — cans of WD-40, packets of herbicide, white plastic buckets spray-painted green, and Budweiser boxes.
In what looked like the cooking area, a thick clump of food wrappers, plastic bags, egg cartons, tequila bottles, and cans had accumulated below pots and pans raised on a table of boughs. And in the sleeping nook, we found a cell phone charger, mirror, razors, soap, toothbrushes, Tylenol, and clothing — pants still on a drying line, shirts, boots cut into slip-on shoes, men's briefs, and a pair of women's underwear.
As the ForestWatch team led by director Jeff Kuyper donned gloves and got to work filling bags with trash, Forest Service spokesperson Andrew Madsen thanked the volunteers, explaining that without them, such sites would remain permanently polluted as his agency simply doesn't have the resources or man power for the cleanups. Madsen said 60 illegal sites and 181,139 plants were eradicated in the Los Padres National Forest in 2013 and that our neck of the woods often sees more grows than anywhere else in the country. Some of them are booby-trapped with trip wires attached to shotguns and are peppered with covered pits filled with sharpened sticks, said Jim Solis with the California Department of Fish and Wildlife. Los Padres topped the eradication list last year with Shasta-Trinity National Forest coming in second; that area saw 34 operations and 158,261 plants yanked.
In 2014, the Santa Barbara Sheriff's Office carried out 10 eradications that destroyed 47,000 plants in 18 separate gardens; an additional 18,000 plants were found either already harvested or dead from drought. The estimated street value of the live plants was $131 million. The raids are coordinated with a host of other law-enforcement agencies, and, recently, Fish and Wildlife has gotten more involved and created Marijuana Eradication Teams (METs). Funding for the operations often comes from the national Campaign Against Marijuana Planting (CAMP) program. Cost figures were not immediately available.
Kevin Cooper, a Forest Service biologist on-hand for the Happy Canyon tour, said the detrimental impacts of grow sites on the environment and its wildlife can't be understated. He pointed to risks to endangered species and the diversion of precious water during the drought. Animals that like to nibble on young cannabis shoots are often killed and sometimes eaten. "It's a shame," he said. [It's] irritating and disappointing."
Cooper also said that the public land plagued by toxins, clear-cutting, and erosive landscaping can take many years to return to their previous pristine states, and sometimes they never do. Officials also often note that the sites are fire hazards. The 2009 La Brea Fire, which burned more than 90,000 acres in North Santa Barbara County, was blamed on a cooking fire at a grow camp.
The cannabis gardens that dot the Los Padres are often the work of Mexican drug cartels, the Sheriff's Office has said, and their presence has increased in recent years. "The public can assist law enforcement by immediately reporting suspicious activity on forest land, such as individuals carrying irrigation tubing, gardening supplies, or large amounts of packaged food," said Sheriff's spokesperson Kelly Hoover in a press release. "If you see someone who seems out of place and may be involved in illegal marijuana grows, do not make contact with them as they may be violent."
Anyone with information is asked to call 681-4175. You can also send an e-mail to weedinfo@sbsheriff.org. To leave an anonymous tip, call 681-4171.