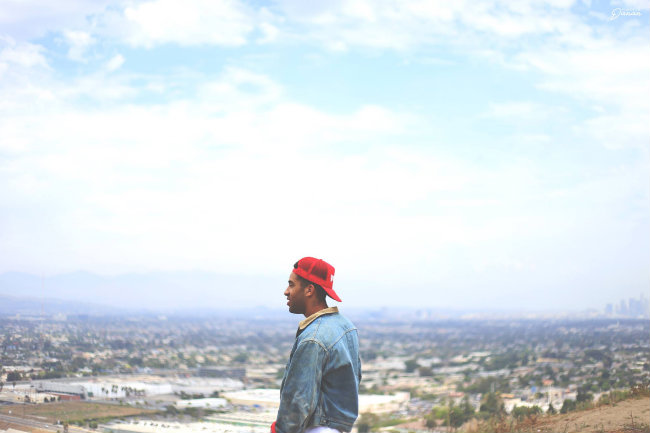 HE'S A LOSER, BABY: The holidays are officially upon us, and while folks in other parts of the country are dealing with things like #winterpol (no, seriously, look it up), we're forever soaking up the spoils of South Coast non-seasons. So, in the spirit of our endless summer, it seems extra fitting that Ventura rapper KYLE has booked himself a gig in sunny Santa Barbara. The baby-faced brains behind last year's super-viral Beautiful Loser takes the stage at Velvet Jones on Friday, December 5, and you can bet he's going to pack the place full of smooth, dance-y, beach-party sound-tracking jams.
For those who have yet to embrace KYLE's feel-good vibe, I recommend starting with "This Is a Hit." The strummy, electronic lead track off Loser is catchy for sure, but it also features a totally heart-tugging breakdown about being a teen "with awkward dance moves" who was "writing plays instead of pounding beers." It's a totally cheesy, uncool, show-your-hand moment, and it's completely endearing in spite of itself.
KYLE plays at 8 p.m. Visit velvet-jones.com for tickets and info.
JAM BAND O'CLOCK: On the opposite side of the music-making spectrum, this week brings the Chris Robinson Brotherhood back to town for an intimate (read: "sit down") show at the Lobero Theatre on Saturday, November 29. Since formally coming together in 2011, the band has maintained a demanding tour schedule, but they've also made something of a second home out of Santa Barbara, playing around town in almost every venue we've got. And it's no wonder why the former Black Crowes frontman and his newish cronies love the 805 — S.B.'s laidback neo-hippie beach-chill thing is so perfectly suited to the Brotherhood's brand of noodle-y stoner retro-rock, I almost can't imagine them playing anywhere else.
Now the only question that remains is, how are all those groove-happy dudes gonna deal when they're told to remain seated during "Rosalee"?
The show starts at 8 p.m. For tickets and info, call (805) 963-0761 or visit lobero.com.