Film & TV
Review: The Theory of Everything
Eddie Redmayne, Felicity Jones, and David Thewlis star in a film written by Anthony McCarten and directed by James Marsh.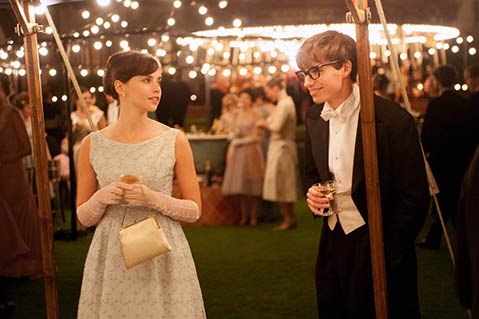 Let's face it: A romance involving the unlikely union of quantum mechanics and the general theory of relativity doesn't sound all that promising. Add to the equation the often formulaic confines of the biopic genre, and your probability of a good time at the movies just dipped dramatically. Luckily, the smart and heartfelt Stephen Hawking biopic The Theory of Everything is all about defying the odds.
The movie picks up Stephen's story in the early 1960s as he begins his doctorate at the University of Cambridge. A science-minded atheist from an eccentric family of intellectuals, he hits it off with a churchgoing student of medieval Spanish poetry named Jane. Their budding romance — including a date at a firework-spangled outdoor formal — is artfully captured by director James Marsh, whose singular vision and attention to detail are on full display throughout the film. Just as their relationship is taking root, though, Stephen is diagnosed with ALS (aka Lou Gehrig's disease) and given two years to live, a prognosis that will test his resolve and that of his soon-to-be wife.
Taking on the challenging role of Hawking is Eddie Redmayne, who previously brought his boyish charm to My Week with Marilyn and a serious set of pipes to Les Misérables. Here, he delivers a physically demanding, emotionally stirring performance reminiscent of Daniel Day-Lewis's work in My Left Foot; he not only embodies Hawking's appearance and spirit but also believably manifests the progressive stages of his disease.
While Marsh's sure-handed direction and Redmayne's knockout performance anchor the film, it's Felicity Jones as Jane Hawking that really sets Theory apart. Rather than depict her as a two-dimensional woman behind a great man, Marsh and screenwriter Anthony McCarten present Jane as a fully fleshed-out human being with her own flaws, desires, and burdens to bear. Jones, similarly powerful in her breakout part in Like Crazy, continues to impress here and challenges the viewer's preconceptions of how these types of films should be told. This is as much her story as it is his, and that's as refreshing as his achievements are inspiring.