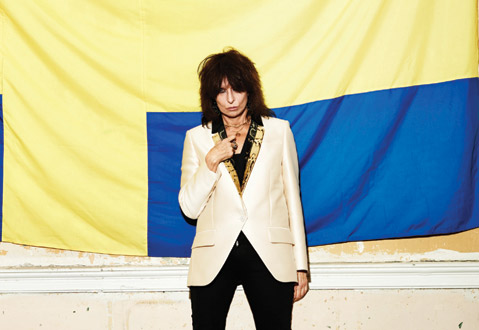 THE GREAT PRETENDER: As far as formative female rockers go, my childhood list reads like a screwed-up love letter to the late '80s and early '90s. From Alanis Morissette and Madonna to TLC, Gwen Stefani, and Fiona Apple — if they were female, mike-toting, and really into feeling all the feels, chances are they were sound-tracking some portion of my young adult life. But looking back now, I realize my proclivity for powerhouse females extended even further, to car rides and family hangs to the tune of greats like Stevie Nicks, Joni Mitchell, and, yes, Chrissie Hynde. In fact, for a few solid years there, I'm pretty sure The Pretenders' "Back on the Chain Gang" was perpetually lodged in my brain, thanks in no small part to a friend's mom, who played Learning to Crawl like it was going out of style.
The great part about Chrissie, though, is that she never was and never will. Thirty-plus years since Crawl was released, "Chain Gang" still totally holds up. As does "Middle of the Road," "2000 Miles," "Don't Get Me Wrong," and the cajillion other records whose liner notes carry her name. As the tall, dark, and feathered-banged head of The Pretenders, Hynde was a gravelly voiced totem for females everywhere. She mixed Annie Hall's braininess with Joan Jett's brawn, and onstage she combined the two with a ferociousness that had everything to do with just how freaking hard she could shred the guitar. Hynde was a Midwest girl, repping Akron, Ohio, before The Black Keys were even a glimmer in anyone's eye, which somehow made her awesomeness slightly more attainable — at least if you were 12 years old and really into belting your brains out in the shower. In hindsight, it was Chrissie who paved my thruway to later-in-life lady loves like Sleater-Kinney and Cat Power and M.I.A. and Karen O. And she hasn't slowed down, either. Earlier this year, Chrissie released her stunning, longtime-coming solo debut, Stockholm. And this Friday, December 5, at 8 p.m. she'll headline the Arlington Theatre as part of a 25-date U.S. tour. I recommend you go and bring a niece, sister, daughter, or girlfriend along. Because who says your formative years have to stop when you're an adult, am I right?
For tickets and info, call (805) 963-4408 or visit thearlingtontheatre.com.
INSIDE OUT: If we're using this space to make an argument for Chrissie Hynde's cultural impact, we need look no further than Saturday night at Velvet Jones, when Portland neo-riot grrrrl Sallie Ford takes the stage for a show in support of her latest solo endeavor, Slap Back. Many will remember Ford as the unlikely bespectacled powerhouse at the helm of Sallie Ford and the Sound Outside. Nowadays, though, Ford is charging forward on her own. On Slap Back, she moves away from the throwback-y soul rock of her full-band recordings to a sound that's a little more punk, a little more rockabilly, and a little more in step with the rowdy live sets she's been delivering for years. The show starts at 8 p.m. Call (805) 965-8676 or visit velvet-jones.com for tickets and info.
SUPPORT SYSTEM: For more variations on the theme, this Friday, December 5, brings S.B. sultry songstress Madison Tang to FUNZONE (226 S. Milpas St.) with her new project, Otis. She'll perform alongside Ventura-turned-Los Angeles folkies Tall Tales and the Silver Lining and S.B. project Soul Strum. The show starts at 8 p.m.
On Sunday, December 7, at 7:30 p.m., the Biko Co-op Garage (6612 Sueno Rd., Isla Vista) plays host to San Diego femme punks Ugly Lovers, as well as Bloomington, Indiana, natives Double Jinx and Santa Barbara's Honey Maid. For info and band links for both shows, visit sbdiy.org.