Film & TV
Review: The Imitation Game
Benedict Cumberbatch, Keira Knightley, and Matthew Goode star in a film written by Graham Moore and directed by Morten Tyldum.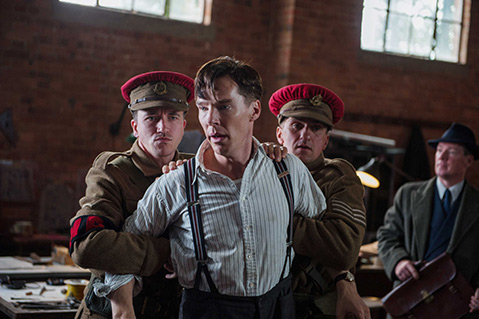 Tragedy is the point of The Imitation Game, but you'd hardly know it. This "prestige biopic" about Alan Turing (Benedict Cumberbatch), who cracked the infamous German Enigma code, starts out well but soon gets lost in our collective pop-culture reference points. We have too many dorky geniuses in films and TV nowadays, from Russell Crowe's John Nash in A Beautiful Mind to The Big Bang Theory's Sheldon (Jim Parsons). Cumberbatch didn't base his intricately layered performance on either, but any film about how a nerd turns tends to seem comic — especially when the first half of the story is all about our hero not fitting in.
The Imitation Game opens on two fronts: We meet Turing late in life when his eccentric furnished dwellings have been burgled. The incident unleashes an untold tale told in flashback concerning his WWII super-secret role, full of compelling downs and glorious ups, British spies, and Turing's homosexuality, which at the time was still a punishable offense. As always, Cumberbatch seems to hatch ideas on the surface of his face before he takes you all the way inside, and his performance seems even better once you learn that it was originally meant for Leonardo DiCaprio. It was handmade for an Oscar nom.
In the end, The Imitation Game is a good (not great) Hollywood film about the growing pains of a genius. It's watchable and moving and pulls off a good dose of hyperbole regarding Turing's creation of the computer. (A lot of other geniuses, dating back to the 1800s, deserve that credit, too.) The cast is strong, but the points the film makes about Turing's sexuality — and the government that turned against him in spite of his accomplishments — are inconsequential and polite when they should be the dramatic crux of the story.