Film & TV
Review: Antarctica: A Year on Ice
A documentary film written by Anthony Powell and Simon Price and directed by Powell.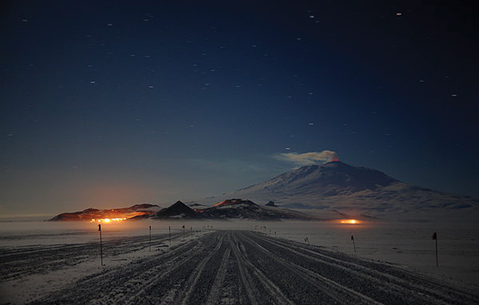 If you go into A Year on Ice expecting March of the Penguins 2, you're going to leave disappointed. In fact, our furry, flightless friends barely cameo in Anthony Powell's documentary about a year in the most remote part of the world—and when they do, it's mostly in reference to the smell of their decaying bodies.
So no, A Year on Ice is not your typical nature doc. Filmed over the span of 10 years using a lot of time-lapse camera footage, Powell's movie reads like a slightly jilted love letter to a far-off ex. It opens on Antarctica's "high season," a four-month stretch (during the Northern Hemisphere's winter) when the sun sits on the continent's horizon all day and all night. During this time, scientists and "regular folk" are sprinkled throughout Antarctica's 30 inhabitable bases. They cook, they adventure, they marvel at the untouched natural world. They tolerate the lingering scent of dead penguin flesh.
Then winter happens.
We learn that only the truly hardcore stick around for Antarctic winter, which is lengthy, storm-filled, and, by all accounts, kind of awful. The majority of off-season Antarctic dwellers are researchers and data collectors, so most days are spent behind a desk. But, as Powell shows us, things can also get kind of crazy. Think video games, giant indoor towers, and vodka. Lots of vodka. It's in these strange winter night-day "party" scenes that A Year on Ice shines, thanks to montages that fall somewhere between Monty Python's Flying Circus and Girls Gone Wild: Robotics Club.
Ultimately, the film closes where it begins, with a crop of eager Antarctic adventurers flocking to the newly sun-soaked tundra. But on the second go-round, you're watching it through the eyes of those who have endured eight of the gnarliest months of their life. Not surprisingly, A Year on Ice is a weird ride and definitely geared toward a niche viewership. But if you choose to hop aboard, it will surely teach you something—or at least instill a newfound appreciation for Santa Barbara's perpetually perfect weather.