Theater
Worth the Drive: Blithe Spirit at the Ahmanson Theater
Angela Lansbury Lifts Delightful but Disturbing Los Angeles Production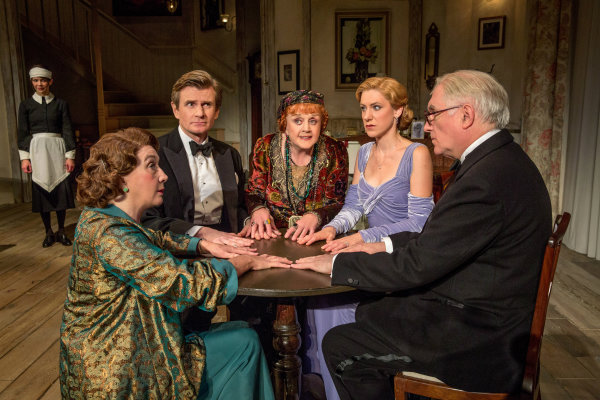 It's really quite remarkable the way Noel Coward's comedies seem impervious to time. In the right hands, their status as satisfying entertainment remains undiminished, even as directors and audiences increasingly appreciate their serious subtexts. Seventy years on, it's clear that Coward had some penetrating insights into human nature, and these keep his seemingly featherweight farces from floating away. Underneath all that wit and style, he's reminding us of some uncomfortable truths.
Michael Blakemore's pitch-perfect revival of 1941's Blithe Spirit, which continues through January 18 at the Ahmanson Theater in downtown Los Angeles, is a perfect example. On a surface level, it's a laugh-out-loud comedy based on a simple but brilliant conceit. As research for his next book, successful author Charles Condomine (Charles Edwards from Downton Abbey) invites Madame Arcati (Angela Lansbury), a medium, to his home for a séance. Much to everyone's surprise, she conjures up the ghost of his late first wife — a development that does not please his current, second wife in the least. As he dramatizes the trio's hilariously odd and increasingly angry interactions, Coward slyly makes the case that human happiness is nearly impossible, since we long for passion but can't bear the baggage that accompanies it. No wonder his characters drink so heavily.
Lansbury, making her first Southern California stage appearance in four decades, is of course the draw here, and she does not disappoint. She finds wonderful specificity in a character that could be played as a generic eccentric; the little dance she does in preparation for going into a trance is worth the price of a ticket alone. (She's 89, by the way.) But the entire cast is superb. This wonderful production isn't so much a star turn as a welcome chance to be reminded of Coward's ability to amuse — which, if you care to notice, went hand in hand with his ability to unsettle.
4∙1∙1:
Blithe Spirit is up at the Ahmanson Theater (135 North Grand Avenue, Los Angeles) through Sunday, January 18. For ticket and info, call (213) 972-4400 or visit centertheatergroup.org.