News
Why I Cycle
Observing Small Moments of Brilliance
"Are these your paintings?" was the subject line of a recent late-afternoon email. Scrolling down, I was stunned to find four bad photographs of framed paintings. There was absolutely no doubt; they were my paintings from the 1980s. An art appraiser in Maryland had been asked to value the paintings for a private collector and had spent months tracking me down. Seeing them after so many years was a trip down memory lane.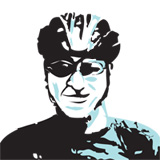 Seeing those paintings also got me thinking about biking. I've been writing the Pedal On column for over three years. During that time I've written about how important cycling is for me as a way to commute to work, shop, or visit friends. It's also a great way to stay in shape, solve problems, sooth emotional storms, and explore beaches, alleys, and roads less traveled. Those are all solid practical reasons for getting on my beloved Austro Daimler, Nishiki, Lemond, or Raleigh Professional.
As my favorite shell, Marcel, would say, it's time for the grand reveal. The fundamental reason I started to cycle is because I paint. I have a BFA in printmaking from Carnegie Mellon. Before I was an educator, executive director, consultant, and more, I was an artist. I still am. My Santa Barbara friends may laugh, but in art school I was in love with nature and created large woodcuts and silkscreens of fields, woods, and lily ponds. Many of the images I produced were of natural beauty until I graduated and realized that I was living in urban Pittsburgh not Walden's Pond. What I could see from my basement apartment window were rooftops and chimneys. Every day I walked along grimy cobblestone alleys.
I didn't have the required supplies or equipment to make prints, so I picked up a paintbrush, paint, small rectangles of gesso-covered masonite and started to paint what I could see outside my windows. I painted slate rooftops, sides of houses, chimneys, and garage doors. The first four paintings still hang on the walls of a house in Pittsburgh.
As I painted I realized that sun-bleached rooftops, grimy walls of alleys, shadowed garage door windows, and deep-red brick walls were beautiful. For the first time I understood that urban cities possessed a beauty that was seldom seen and that I wanted to paint so that others could see cities through my eyes. Forty years later I'm still passionately painting small photorealist paintings of urban grit.
What does cycling have to do with painting? Simple, from the beginning my bike got me to new places to paint. My bicycle has carried me all over Pittsburgh, Boston, Oakland, Portland, and Santa Barbara. I've ridden thousands of miles to endless neighborhoods, down alleys and streets looking for moments in time to paint. The paintings are small, with none bigger than 8" by 11″ and often as small as 2" by 4". Over the years I've painted rooftops, garbage cans, trucks, trains, barges, bridges, gas stations, diners, overpasses, carnivals, and more.
It's a different type of riding than most cyclists do. It's neither commuting nor pleasure riding. It's definitely about the journey and not a specific destination. I don't Google Map a route or check on how long it will take me to get from point A to B. Most of the time I'm riding slowly and looking closely at the world around me. I stop as much as I ride. I wait for a cloud to pass and the light to be right as much as I stop. I roll backward and forward trying to find the right angle or point of view. I cycle in circles around blocks aimlessly, without thought, waiting for the moment.
I still do it. My iPhone camera has replaced my trusty Canon 35mm film camera, but I get on my bike and head out to ride for hours, meandering down Santa Barbara's back streets and industrial neighborhoods. I usually try and travel as light as possible. All I need is my bike, water bottle, backpack, and patience. A cable lock, a few tools, patch kit, and a sketchbook is all that I have in my backpack. I've had my fair share of flats, broken cables, and spokes over the years. If I can't fix it on the road, I usually walk home.
Some days I return home without having taken a single picture. Other days I return home thrilled with the knowledge that on this day I have caught beautiful moments in time.
Occasionally I'll have a destination in mind. In April I'll always ride out to the Earl Warren fairgrounds for the carnival. I park my bike at the entrance and wander through the colorful rides. I'm not interested in the people. I'm interested in bits of the colorful carnival rides.
Not many people buy what I paint, and those who do usually purchase a memory. They remember working across the street from the CF Trucking warehouse, or that house looks like the one their grandmother lived in when they were young. Cycling and painting will always be passionately intertwined in my soul. Some of my happiest memories are of riding my bike aimlessly for hours until stopped by the fateful momentary convergence of a sunbeam-lit wall, truck, or barge and deep shadows.
I'm not sure what value that art appraiser will assign to those four paintings. Several years ago another painting from the same era came up for auction and sold for $50. If you're an artist it's best to put your ego away. Now I bike and paint for the same reason — pleasure!