Arts & Entertainment
Review: Cracker and Camper Van Beethoven at the Lobero Theatre
David Lowery's Two Bands Double Headlined on December 29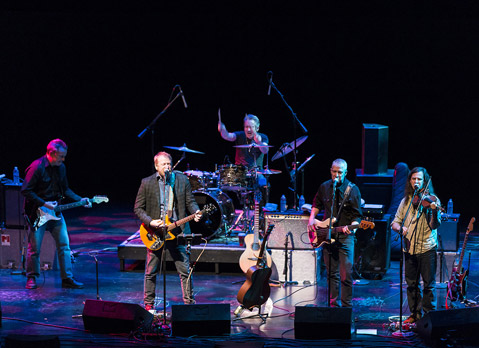 The hiatus between Christmas and New Year's got a lot more festive on Monday, December 29, when Cracker and Camper Van Beethoven rolled into town for a pair of long sets featuring music old, new, and even sometimes borrowed. Cracker cofounders David Lowery and Johnny Hickman were joined onstage by a rotating crew of musicians that on this night included the following players: for Camper Van Beethoven, Lowery, Greg Lisher, Jonathan Segel, Victor Krummenacher, and Michael Urbano, and for Cracker, Lowery, Hickman, Thayer Serano, Jordan Shapiro, Krummenacher, and Urbano. Their initial entrance was choreographed to the opening bars of the Gypsy Kings' memorable cover of "Hotel California," the first of several sly references to The Big Lebowski. As Californian as they come — Cracker's new double album is titled Berkeley to Bakersfield — Lowery nevertheless seemed to be searching for some kind of connection to Santa Barbara and had to be reminded of the band's only other appearance here, an opening slot at the "County Bowl" for Natalie Merchant back in 1988.
As the evening progressed and the players loosened up, sparks began to fly. Cracker's oh-so-quotable "Teen Angst" brought the audience together, as did other hits like Cracker's "Low" and later Camper's "Take the Skinheads Bowling." Even on brand-new Cracker material such as "Torches and Pitchforks" and "El Comandante," the band demonstrated its knack for direct communication, putting over lyrics that were as easy to understand as they were interesting to ponder. Lowery and Hickman are not exactly proud of what's become of metropolitan NorCal, a sentiment that powers such recent songs as "March of the Billionaires," the lyrics of which include the following lines: "Give up your rights / Your most private thoughts / Don't make us label you some kind of Luddites / It's better for us, therefore it's better for you."
Although nearly anyone can relate to Lowery's lyric as expressing skepticism about the data-based business models of social-networking and search-engine companies, those who have been following his career as an artist's rights activist will recognize an even more personal meaning here. After the release of his 2012 San Francisco MusicTech Conference speech on, among other things, the unfairness of the way that streaming services pay musicians, Lowery, who teaches a course in the economics of the music business at the University of Georgia, has become the go-to guy for hard facts and harsh criticism of the new media landscape for music.
Despite, or perhaps because of, the fire he's feeling in his belly on the subject, Lowery is also burning up the stage right now, as is Hickman, whose voice and guitar style complement Lowery's more full-throated roar perfectly. Later, Camper's set was predictably heavy on the rockers and thoroughly satisfying as a result. Jordan Shapiro's pedal steel soared over the ensemble blend and Thayer Serano's backing vocals added layers of harmony as the group charged through the big stompers from the new album, many of which, like "Waited My Whole Life," bear no hint of protest or angst, teen or otherwise. The encore, a cover of Bob Dylan's "The Man in Me," summoned the spirit of The Dude in the fullest possible sense, and a happy crowd left the theater firm in the knowledge that, for now at least, he abides.