Voices
A Regulatory Battle Royale
Greenhouse Gas Emission Levels at Stake Again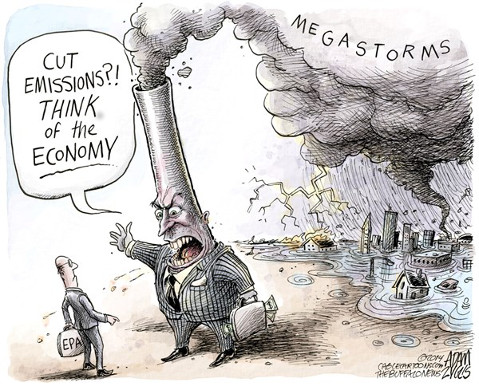 Santa Barbara County is quietly deciding one of the most important environmental regulations it's ever had to develop in the face of intense pressure by the most powerful polluters in the county. The question is simple: What amount of greenhouse gas emissions (GHGs) from new stationary, industrial sources — like new oil drilling projects — is significant?
On one hand, it's clear that any increase is significant. We need to reduce emissions, not increase them. On the other hand, oil companies don't want any limit at all. They favor shaving a percentage off expected emissions and calling the rest insignificant. The practical effect of such a policy would be huge increases in county emissions while regulators turn a blind eye.
Why does this matter? Oil companies are planning to expand high-pressure steam injection operations in Santa Barbara County. This type of oil extraction requires massive engines to heat the earth hundreds of degrees, making it the most emissions-intensive form of oil production in the world. The resulting increase in GHG emissions from these operations threatens all other progress in Santa Barbara County in reducing greenhouse gas emissions.
For example, the County Climate Action Plan calls for a 15 percent reduction in GHG emission levels by 2020. That reduction — 186,900 tons per year — would be achieved through heroic efforts from commuter rail to mandatory energy audits to establishing a community choice energy utility to finance, build, and sell renewable power.
But applications already submitted by Pacific Coast Energy for 96 steam-injection wells and by ERG, currently being sold to a Chinese company, for 233 wells — just those two projects — could wipe out all the emissions savings in the County Climate Action Plan entirely. And these two projects are just the beginning. The county is expecting an application for 300 steam injection wells by AERA, a company owned by Shell and Exxon. And other oil companies have stated plans for thousands of additional steam-injection wells in the coming years.
In short, all the energy savings from those of us who have changed our light bulbs, put solar panels on our houses, chosen to drive electric cars or bike to work — everything that any of us have done to reduce our energy use as well as the most ambitious plans put forward by county planners — all that savings could be wiped out many times over by increased unconventional oil production in our county.
The science is clear. The latest report from the IPCC, the UN Intergovernmental Panel on Climate Change, states that we need to reduce greenhouse gas emissions by 40 to 70 percent within the next 30 years to avoid "severe, pervasive and irreversible impacts for people and ecosystems." It is very clear that we need to reduce emissions if we want to keep global climate change to a level that might be manageable. The alternative is catastrophic and, according to the IPCC, "irreversible." We get one shot, right now, to do the right thing.
The California State Lands Commission has also weighed in on this question and came to the same conclusion. For projects that it oversee, such as a recent proposal to restart drilling for oil on the beach in Goleta, they assume any increase in greenhouse gas emissions is significant. "Until such time as the Santa Barbara County Air Pollution Control District (APCD) establishes GHG thresholds, the threshold of 'zero net increase' for GHG emissions recommended by California State Lands Commission staff would require mitigation and would be less than significant," reads that EIR.
This goal of "zero net increase" in emissions makes a lot of sense. If we must reduce emissions, any project that increases them is a concern. Everyone who showed up at the community meetings hosted by the Santa Barbara County APCD on this subject agreed.
The APCD's mission is to protect the people and environment of Santa Barbara County, not oil industry profits. If it resists industry pressure and sets a policy of a zero net increase in emissions, then at least oil companies will not have a license to pollute for free. The county can seek remedies to reduce or offset their pollution.
The oil companies can well afford to pay for their pollution. It would likely cost around two cents per gallon. And it might be in their interest to do so. The more the oil companies bully regulators and interfere in elections, the more likely they will be to push citizens to fight back and ban these extreme forms of oil extraction entirely. Measure P lost in November, but a revised attempt in a higher-turnout election might yet succeed.
The APCD is accepting public comment until this Friday, January 16. Write to ceqa@sbcapcd.org or sign the online petition and tell them to say "no" to increased greenhouse gas emissions in Santa Barbara County.
Katie Davis is chair of Santa Barbara's chapter of the Sierra Club and one of the founders of Water Guardians environmental group, which created Measure P, a 2014 ballot measure to ban fracking, acidizing, and steam-injection oil extraction techniques in Santa Barbara County.