Film & TV
Review: Selma
David Oyelowo, Carmen Ejogo, and Tim Roth star in a film written by Paul Webb and directed by Ava DuVernay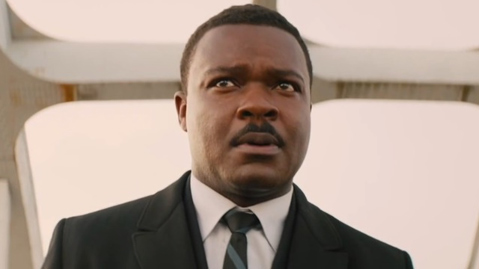 Selma opens, appropriately enough, with Martin Luther King Jr. (David Oyelowo) rehearsing a speech. A few lines in, he stops, cryptically repeating, "It's not right." After a brief exchange with his wife (Carmen Ejogo), we realize he's referring not to the oration at hand but to the ascot he's been fussing with all along: He's concerned folks back home will take it as a sign he's riding high on the hog, a fear his wife allays as she ties the scarf around his neck. This intimate scene prefaces the more historically significant one in which the legendary civil-rights leader receives the 1964 Nobel Peace Prize; however, the dressing-room exchange tips us off that, at least here, the key to cracking King more likely lies behind closed doors than podiums.
Like other recent biopic successes, such as Lincoln and The King's Speech, Selma wisely avoids a cradle-to-grave rehashing of its subject's life story. (King's "I Have a Dream" speech is mentioned only in passing, and his assassination is consigned to a postscript.) Instead, the focus remains on his role in the marches from Selma to Montgomery, Alabama, which precipitated the passage of the monumental Voting Rights Act of 1965. This portrait makes clear that part of King's genius was in the people he surrounded himself with, including reluctant allies such as student activist John Lewis (Stephan James), who delivers a subtle but stirring account of a Freedom Ride turned violent late in the film. It's the depiction of Jimmie Lee Jackson's murder, though, that will likely hit home the hardest, with its echoes of the recent headline-grabbing slayings of unarmed black men at the hands of police. (Ferguson gets conspicuously name-dropped in the end-credit song "Glory.")
Sure, on paper there are plenty of reasons why this film shouldn't work: King's speeches had to be rewritten due to a copyright kerfuffle; the American icon is portrayed by a Brit; and billionaire Oprah Winfrey plays a working-class activist. Onscreen, though, these scruples are left by the wayside. The speeches, which are beautifully shot, still soar; Oyelowo gives a humanizing breakout performance; and Winfrey manages to find a quiet dignity in her role as Annie Lee Cooper. As a result, Selma is a highly watchable slice of history with enough heart and modern-day resonance to sustain the whole procession as it marches past tragedy toward its bittersweet conclusion.