Theater
The Dark Knights of Camelot
Broadway Classic Gets Medieval Treatment at the Granada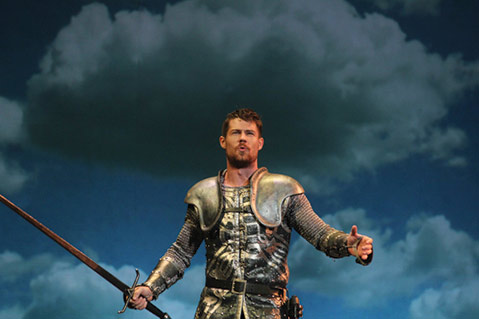 When Camelot premiered in 1960, traditional Broadway musicals were at the height of their cultural influence and the end of their golden age. The show appeared like a "shining moment" in the theater world and quickly turned into an all-purpose metaphor celebrating the then-recent election of President John F. Kennedy. Of course, the end of Broadway's golden age only became truly apparent in retrospect, as smaller productions, edgier stories, and rock and pop music gradually replaced the massive pageantry and traditional craftsmanship of 1940s and '50s musical theater.
Nowadays, reviving Camelot may feel like an exercise in nostalgia, but that's not the goal of this national touring production, which comes to the Granada Theatre by way of Theater League on Tuesday and Wednesday, January 20 and 21. "I wouldn't have done it without knowing we had found a way to make it new," says Adam Grabau, who will portray King Arthur in the production. Before rehearsals even began, the actor, who has ironically also played Lancelot in the national touring company of Spamalot, met extensively with director Michael McFadden and the other leading actors to revisit the story, sharpen the conflict, emphasize the principal themes, and "trim it back" from its original three-and-a-half-hour running time to a more manageable two and a half hours. The result is a show that Grabau describes as "more medieval than fairy-tale, and not fluffy," going on to say that "this Camelot is a dark castle built for a modern audience."
Over the past several years, Santa Barbara audiences have become accustomed to a high level of professionalism from Theater League, which is also responsible for the Broadway in Santa Barbara series. With this new Camelot, longtime Broadway lovers will be able to commune with new fans as they surrender to the magic of one of theater's all-time greatest shows. For tickets and information, call (805) 899-2222 or visit granadasb.org.