Special Presentations
Leviathan: A favorite on the festival circuit, this hard-drinking drama shows how corrupt the current Russian society can be, with one man fighting a dangerous battle against a gun-wielding politician to keep his family's seaside property.
Maps to the Stars: David Cronenberg's funny, sad, and hard-to-stop-watching-the-trainwreck satire about child stars both young and old, starring Julianne Moore, John Cusack, and Robert Pattinson, is a quite acerbic critique of Hollywood culture.
Nightingale: David Oyelowo is the only actor in this entire film about a PTSD-afflicted solider who kills his mother and tries to lure his only supposed friend over for dinner. It's an acting tour de force.
Sunshine Superman: This engrossing documentary about the birth of BASE jumping is told through the love story of Carl and Jane Boenish.
Tangerines: This thought-provoking and downright excellent film enters the separatist rebel war in Abkhazia, showing how two Estonian men — their own ethnic role in the region an entirely interesting piece of forgotten history — bring a Georgian soldier and Chechen mercenary who shot each other back to health under the same roof.
Timbuktu: This colorful feature from the heart of Saharan Africa shows what life is like under foreign Islamic fundamentalist rule, when hypocritical Arab rulers impose laws that are so senseless they make normal life unlivable and so harsh that those lives are quickly ended.
Independents
A Better You: Matt Walsh (Veep, The Hangover, Upright Citizens Brigade) directs longtime buds Horatio Sanz, Natasha Leggero, Rob Huebel, and Nick Kroll in this hilarious and oddly thoughtful take on the agonies and the ironies of the self-help industry.
Kill Me Three Times: This Australian black-comedy film starring Simon Pegg is about a group of revenge-seeking manipulators who each concoct diabolic plans that will make you cringe and laugh. Misperceptions of the strategizing send the plot twisting in delightful ways.
Uncanny: This feature film concerns the exciting yet frightful development of artificial intelligence by following a female tech reporter who visits a humanoid robot and his genius creator and the love triangle that ensues, tackling the issue with thought-provoking intrigue.
Wet Bum: This coming-of-age independent film follows a teenage girl who's concerned about her late-blooming body, her budding love affair with an older swim coach, and her work at a home for seniors. It's sad, happy, charming, and depressing at various times but always very honest, much like life itself.
Internationals
All Cats Are Grey (Tous les chats sont gris): This touching and engaging French film is about a daughter in search of her father, revealing that meaningful relationships can often be based on much more than blood.
Cruel: This nail-biting narrative study of the mind of a very troubled though quite prolific serial killer in Toulouse, France, explores many facets of human existence, from childhood trauma to dreams of the future to the pains of growing old.
In the Sands of Babylon: In the wake of the first Gulf War, millions of Iraqis rose up against Saddam Hussein, only to be brutally crushed when American support didn't materialize. This film focuses on an Iraqi soldier who's mistaken for a traitor and how the prison where he is held becomes a hotbed for the tragic revolt.
Kolnoa (Jewish Films)
Gett: The Trial of Viviane Amsalem: Due to a patriarchal Israeli divorce ritual, women like Viviane Amsalem remain married for years after separating from husbands. This beautiful chamber work for actors relies on a subtle, insinuating script that takes the story behind the clichés of hero and villain.
Sacred Sperm: This is an honest if at times awkward look into the belief held by Haredi Jews that it's a violation of a covenant to spill one's sperm outside of the vagina of one's wife and was made by a devout believer who's curious how to raise his baby son.
Spanish/Latin American
Aces (Os fenómenos): The Great Recession stars in many movies this year, including this heartstring-pulling drama about a single mother in Spain who must turn to the male-dominated construction trade to make ends meet. Watch as she enters their world against all odds.
Happy Times (Tiempos felices): This is a well-acted and funny Mexican film about a man who's trying to break up with his girlfriend, only to have her think that she's being proposed to. He enlists a service to get rid of this problem, and everything gets weird.
La noche del ratón (The Night of the Rat): What would you do if you stopped at a gas station and were suddenly under gunfire? This film focuses on the fear that builds in a victim of such senseless violence and the quiet spaces in between the flashes of terror.
The World Laughs
Bonobo: What if people decided that our ape cousins lived better lives and set about copying them? That's what happens in this racy British comedy about a group of folks deciding to follow the bonobo's highly sexualized and peaceful ways.
Monument to Michael Jackson (Spomenik Majklu Džeksonu): Set in post-Balkan War Serbia, this inspiringly quirky and often hilarious film follows one man's quest to revitalize tourism, the airport, and the economy of a small town by erecting a monument to pop star Michael Jackson (who's still alive back then) in the center of town.
The Grump (Mielensäpahoittaja): What begins as a funny film from Finland about a grumpy old country man who must move to the city evolves into a self-examination of a lonely life full of mistakes. This lovable feature will make you laugh, cry, and think about your own life, no matter your age.
Reel Nature
Gardeners of Eden: This eye-opening, heart-wrenching, and stunningly shot documentary covers the plight of elephants in Kenya's Tsavo National Park, where poaching for ivory is worse than ever, and the efforts to rehabilitate orphaned animals.
The Penguin Counters: Filmmakers Peter Getzels and Harriet Gordon accompany Ron Naveen and his team of research ecologists to the seventh continent to chronicle the arduous task of hand counting tens of thousands of penguins. It's grueling, tedious work, but their data is some of the most important ecosystem information gathered.
Tiger Tiger: Though tightly focused on legendary conservationist Alan Rabinowitz's quest to find the Bengal tiger, this gripping documentary touches on the value of apex predators, the relationship of man to beast, and the nature of a purposeful life.
Pan Asia
12 Citizens: Since China does not have trial by jury, this contemporary Chinese remake of 12 Angry Men concerns a group who come together to simulate the experience of deliberating on the verdict in a famous murder case.
Confession: The lives of three best friends in Korea collide in disastrous ways when a mutually beneficial robbery scheme goes bad. How each deals with the ensuing tragedy reveals much about their underlying characters.
Haemoo: Times are tough for a Korean fishing crew, so they agree to smuggle immigrants from China, only to have the worst possible outcome occur. This tale is grisly and gripping.
Margarita, with a Straw: This film about a woman living with cerebral palsy in India centers on the stunning performance of actress Kalki Koechlin, whose character's sexual awakening powerfully delivers the message that those with disabilities can experience full lives.
Partners in Crime: Three boys bond after finding a girl's body, though their unorthodox investigation of the death takes us from detective tale toward stylish horror-film territory.
Tokyo Fiancée: Pauline Etienne plays a twee-ish twenty-something who takes on a Japanese lover and finds out firsthand the difference between cultures is a lot like the gap between idealism and reality.
Young Tiger: This story of a young Sikh attempting to make his way in contemporary Paris shows how ties to one's country of origin can be as challenging as any obstacle thrown in the way by the society one is trying to enter.
To the Maxx
Spirit of Akasha: One of the most anticipated surf cinema releases in years, this film is an all-out cultural experience with an original soundtrack for the ages.
Santa Barbara Films
Grasshopper for Grandpa: This documentary short is must-see moviegoing for anybody even remotely familiar with one of Santa Barbara's most beloved watering holes/eateries, Jimmy's Oriental Gardens.
Generosity of Eye: This fascinating doc by Julia Louis-Dreyfus's husband, Brad Hall, concerns her surprise when her father, William Louis-Dreyfus, sells his idiosyncratic art collection in order to benefit the Harlem Children's Zone.
Holbrook/Twain: An American Odyssey: At 60, Hal Holbrook's Mark Twain Tonight is the longest-running one-man show in theatrical history, and this beautiful and haunting black-and-white documentary overflows with the humanity of an epic and the pathos of a tragedy.
Social Justice
Do I Sound Gay?: David Thorpe's documentary about coming to terms with his own gay voice is gripping and uplifting, but it's also a near-perfect example of how one person's story can resonate with so many.
I Am FEMEN (Je suis Femen): This compelling documentary chronicles the provocative Ukrainian feminist group known for their topless protests against sexism, religious institutions, and homophobia.
The Land of Many Palaces: This brilliant documentary shows China's steady move from a rural to an urban country, following elderly villagers who are lured from their ramshackle farmhouses to high-rise apartments and providing thoughtful insight from the government workers who bring them there.
Mad as Hell: This is an inside look at how Cenk Uygur evolved from a conservative, loudmouth law school student into the most progressive and widely watched talk-show host in the history of the Internet. Love him or hate him, the founder of The Young Turks truly follows his ideals, sending up the rest of the media along the way.
The Year We Thought About Love: This documentary about 16 gay teens, shot during eight months of rehearsals with the Boston-based LBGTQ theater group True Colors, shows that love is a universal human experience not defined by sexuality.
Cinematic Overtures
Heartworn Highways Revisited: This modern-day redux of filmmaker James Szalapski's 1976 doc about outlaw country music moves slow and looms large, focusing on contemporary songwriters like Deer Tick's John McCauley and Jonny Fritz, as well as legends like Guy Clark and the late Townes Van Zandt. It's a treat for music lovers.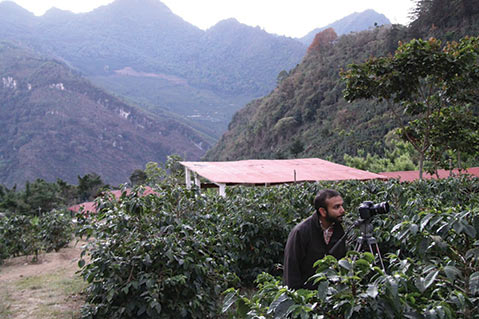 Screen Cuisine
Caffeinated: Hanh Nguyen and Vishal Solanki's ambitious little doc is informative but also poignant and thoughtful in regard to the way we drink, interact, and forge community bonds around coffee rituals.
Deli Man: The Jewish deli is a dying institution, with only a hundred or so examples left across the country when there were once more than 1,000 in New York City alone. This doc serves up the pastrami-laden past and present in an entertaining and appetizing fashion, with profiles of deli owners and fans alike.
Mafia and Red Tomatoes (La nostra terra): This cute Italian comedy concerns an anxious bureaucrat who agrees to lead a cooperative that's taking over land seized from the regional mafia boss. Food, farming, and organic living form the heart of the narrative.
Pie Lady of Pie Town: There is seriously a "Pie Lady" in Pie Town, New Mexico, and this charming, mouth-watering short documentary explains how that all came to be.