Film & TV
Review: Mortdecai
Johnny Depp, Gwyneth Paltrow, and Paul Bettany star in a film written by Eric Aronson, based on the novel by Kyril Bonfiglioli, and directed by David Koepp.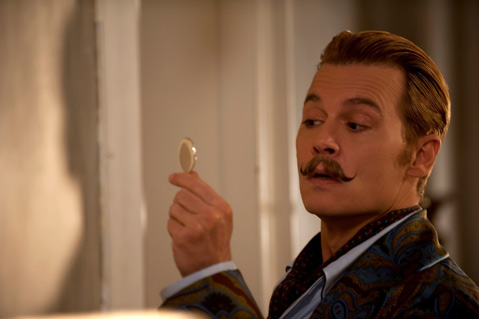 Most moviegoing pitfalls today can be blamed on studio marketing departments. "This movie would be sophisticated fun for a 14-year-old boy," said my moviegoing companion, who wasn't even trying to be ironic. In other words, when people see a film sold as a blockbuster with stars like Johnny Depp and Gwyneth Paltrow, they can't help but be confused if it's actually piffle. Big daily paper critics who live only for sensations won't find themselves in a little film, unless it was marketed as a "feel-good romp" or some such cliché. This movie, which is reasonably funny and satirical — a hybrid of English cozy mystery and Pink Panther slapstick with sexy movie graphics — does not compute for them, so they have no choice but to slam it.
Nobody is saying Mortdecai is great, but it certainly doesn't signal the end of Western civilization as many have written. In it, Depp plays the upper-class twit title character, who knows everything about art history and occasionally helps British authorities investigate the grim underbelly of the art world (which pretty much sums up the whole biz nowadays). Financially tapped, Mortdecai and his tough sidekick (Paul Bettany) quest after a famed missing Goya also sought by China, Russia, and some terrorist thugs. But the film's major conflict is how queasy Mortdecai's wife (Gwyneth Paltrow) is made by his new mustache. There are many semi-funny running jokes, and though it's not cult-film good, neither is it the cinematic disaster that last year's Transcendence was.
Depp has been in many horrible films since Pirates of the Caribbean overstayed its welcome (Dark Shadows, Jack and Jill, and The Lone Ranger), so you can't blame the public for staying away. He seems to be having uncaring fun with acting, and this is another nice inconsequential role. As for Mortdecai, it's a movie you could take or leave and one that smart preteens might enjoy. But when previews say it will "thrill" and "dazzle" you, the blame for the flop is clear.