Film & TV
SBIFF 2015 Mid-fest Report
Super Cinema, Stars We've Seen, Steve Carell, and More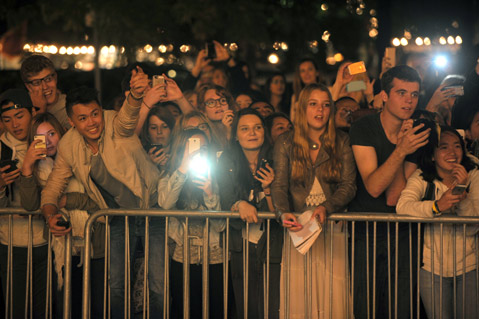 Santa Barbara's many movie houses remain expectedly packed as you read this, with the 30th edition of the Santa Barbara International Film Festival (SBIFF) continuing to roll through Saturday evening, when the Kevin Costner film McFarland, USA headlines the Closing Night festivities.
During the past 10 days, we've witnessed plenty of superb cinematic offerings from around the planet. Though it's impossible to paint them all with one broad brushstroke, many of the films do share themes of dealing with tough economies — from societal to personal — and reflect on the dangerous choices that must be made to keep bills paid. It's as if the Great Recession took about seven years to reach the big screen in a meaningful way.
The stars we've seen, from bubbly Jennifer Aniston to thoughtful Michael Keaton, are also myriad in their personalities and careers, yet they all have seemed quite gracious and thankful in their tributes. Perhaps 25-year fest interviewing veteran Leonard Maltin smiled widest of all when SBIFF Executive Director Roger Durling surprisingly announced that the Modern Master Award, which Keaton received on Saturday, would henceforth carry Maltin's own name. Cheers to that.
So expect to learn a bit more about all of that in the pages that follow, which feature our best pictures from the days past, our favorite things that were said, and what to look for on the last three days of the fest, including a wide-ranging article with Steve Carell, who will be honored at the Arlington on Friday night. And keep an eye out for the five editions of Meet the Makers that are on the streets right now, all featuring about a dozen interviews with filmmakers who are enjoying Santa Barbara themselves right now.
"I didn't realize I was old enough to get one of these. I really feel like I am just beginning." —Jennifer Aniston, winner of the Montecito Award for her 25-year career
"The word 'no' is not an answer. It's just an obstacle to doing what you really want to do."—David Oyelowo, one of seven winners of the Virtuoso Award, for his role as Martin Luther King Jr. in Selma
"There are some roles that are jobs. This was not a job." —Chadwick Boseman, Virtuoso Award winner for his turn as James Brown in Get on Up
"Enough of listening to us; it's time to get a drink!" —Felicity Jones, who received the Cinema Vanguard Award, along with Eddie Redmayne, for their roles in The Theory of Everything
"I think I'm going to pass out. This is overwhelming. It's a lot to take in. I'm a fortunate man." —Michael Keaton, who won the Modern Master Award for his starring role in Birdman
–