Sports
Boys Soccer: Chargers v. Dons
Manny Nwosu's Goal Lifts Chargers Over Dons
Manny Nwosu scored in the 61st minute and Dos Pueblos' defense recorded its fifth shutout in six Channel League games on Tuesday as the Chargers defeated Santa Barbara 1-0 in O'Leary Stadium.
The result clinches at least a share of the Channel League title for Dos Pueblos, the Chargers' first league title since 1983. DP improves to 6-0 and hosts Buena on Thursday. Santa Barbara falls to 4-2 and travels to Ventura on Thursday.
Santa Barbara keeper Angel Cervantes had just made a diving stop on a header by Nwosu less than 60 seconds before Dos Pueblos took the lead. Cervantes poked Nwosu's shot out of bounds and the ensuing corner kick was cleared by Santa Barbara only to be sent back toward the Dons' goal from midfield. Tim Heiduk got control and beat a pair of defenders to create for Nwosu. A shot by Heiduk was deflected and Nwosu beat a Santa Barbara defender to the loose ball. Taking one touch, Nwosu's shot was a low one-hopper that made it into the far right corner of Santa Barbara's goal.
"It was one of those–it was bouncing around a lot and I just saw it and I tried to get a foot on it," Nwosu said. "It was a good take by my teammate Tim Heiduk. It was good for him; he created the shot. If it wasn't for him I wouldn't have scored."
The Dons were quicker and connected passes better, especially in the first half, but Dos Pueblos used its size and physicality to its advantage. "I think they're the most physical team in Channel League this year," said Dons head coach Todd Heil, who noted that his team is smaller than most opponents but is always up for the challenge. "Our M.O. is get it down and be quick, and their M.O. is more direct, a little more physical and they've come out on the better end each time unfortunately."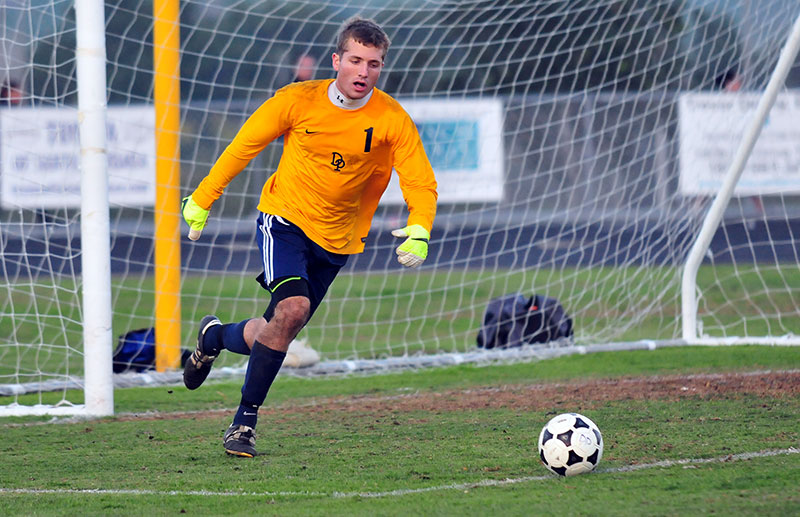 DP's strategy was to completely clog the middle of the attacking area. "Once they're wide, we really talk about bracketing front and back those interior guys to not let them get a good turn because that's when they're most dangerous," said Dos Pueblos head coach Matt York.
Santa Barbara had the better chances in the first half with several shots just missing the frame. Overall the Dons outshot the Chargers 10-7.
"We told our guys at halftime, they were pretty much outplaying us it seemed like for a lot of it because we weren't playing our style," York said. "We came out and we tried to reassert ourself a little bit more because it was our home field. We had a great crowd tonight."
Dos Pueblos' defensive line of Drew Richard, Walter Hernandez, Giovanni Paredes and Calvin Schipper provided a buffer for keeper Alex Mathews in the shutout. York credited his three captains, Heiduk, Richard and Jessie Jimenez, for leading the team to victory.
The Dons suffered the same 1-0 result as the first time the two teams played but Heil believed his team, ranked No. 5 in CIF Division 1, looked better than their previous match with the Chargers.
"We played so much better but the one thing we didn't do was finish those chances," Heil said. "If you look back at the first half, we probably should have had one or two."
The Dons had more chances in the second half, including a pair of free kicks inside of 25 yards after the Chargers took their 1-0 lead. Jorge Garcia Torres put both shots on goal but Mathews saved each.
"Those are real dangerous opportunities," York said. "Luckily we were able to keep the clean sheet."
For more, see presidiosports.com.