News
An Education on Wheels
Santa Barbara Middle Schoolers Learn on the Road
When it comes to biking education, Santa Barbara Middle School (SBMS) is setting the pace. Many schools across the U.S. have cut back on recess and athletic offerings, but SBMS views cycling as a vital part of the school's educational philosophy. It's a perspective that's helping students thrive.
SBMS kicks off the academic year with a biking orientation during which everyone, teachers and students alike, pedal and learn alongside one another. The orientation serves as a community builder, and it gets students ready for more challenging rides offered during the rest of the year. Between special cycling trips and commuting to and from campus, students and staff collectively ride an estimated 15,000 miles each year.
With an ever-increasing pressure to compete academically, athletically, and socially, young students are often over-scheduled and overburdened. Adding an additional activity to their already busy lives may seem counterintuitive. But, the school takes a holistic approach to education, "We don't see 'academic' learning as being restricted to the walls of traditional classrooms," explains Head of School Brian McWilliams.
Sue Carmody, director of Community Outreach, says biking isn't just about breaking a sweat and having a good time, "The bike teaches responsible risk-taking, overcoming obstacles, teamwork, and a commitment to partners and self to give it your best effort." These are life lessons applicable well beyond the middle school years.
Every student at the school rides in at least two cycling trips each year. Mechanical support is a central part of these biking expeditions, and it comes in the form of the school's Bike Monkeys. Despite the name, the school takes bike education seriously. Students who elect to take the Bike Monkey class spend four afternoons a week learning about, repairing, and maintaining bicycles. "We like to call it our pre-mechanical engineering program," says McWilliams.
If they pass a test at the end of the term, these students earn the privilege of assisting their classmates and teachers on the road. When flat tires or broken chains strike, it's up to the Bike Monkeys to fix them. "These trips literally could not run without the Bike Monkeys," says Jim Brady, assistant head of school and Outdoor Education Program director.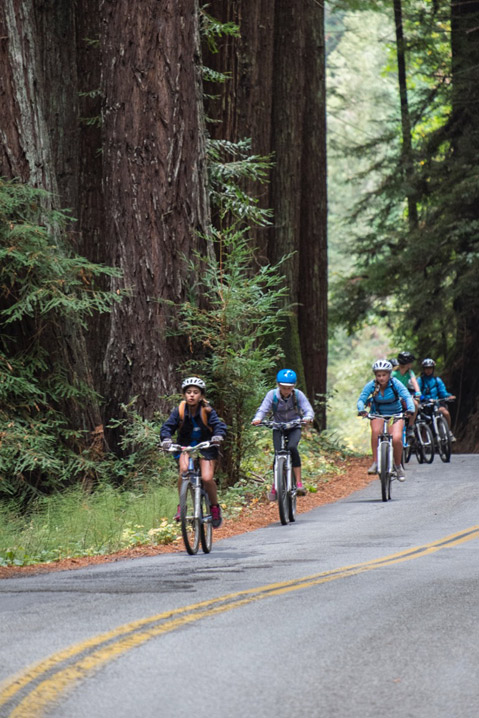 Jesse Kasehagen, teacher and SBMS alum, has been leading the Bike Monkeys for 10 years. He says these students make a commitment to be the first ones up in the morning and the last to rest at the end of the day. They also volunteer their time and expertise at events encouraging local cycling. While they are required to put in hard work and extra hours, the biggest obligation of the Monkeys is to their fellow cyclists.
SBMS ninth-grader, and Bike Monkey co-captain, Max Youngson says helping others is the most rewarding aspect of the work he does on the road. "When someone's bike breaks down, they're in distress. When you're able to help them, they're super thankful, and it's just really cool to be able to help someone." Co-captain Addie Furrer agrees, "Everyone wants to finish the ride together. No one wants to have to take the van back."
Addie says one of the most interesting parts of being a Bike Monkey is solving spontaneous problems on the road. "One time we had a rider with tubeless tires. He got a flat, and we didn't have all the parts we needed. We weren't sure how to fix it," she explains, "Finally, we ended up jerry-rigging it using some medical tape, and it worked!" Addie says, "For me, I'm used to riding my bike, so that's not the hard part; it's those kinds of intellectual challenges that are difficult and make the rides fun."
The support the Bike Monkeys provide is not just technical. The fastest, most capable cyclists are typically stationed in the back of the pack, where they can have the biggest impact on struggling riders. "They're not all hardcore bikers," says Addie, "in fact most of them aren't. Sometimes they need a little push to get going." And it's not just fellow students in need of morale boosting, some of the slowest riders are actually teachers.
The reciprocity that develops between a student struggling with algebra and a teacher struggling to keep pace with the pack allows both to understand each other on a more personal level, something rare in the junior high crowd. The school's symbol is a bicycle wheel, because, as Max puts it, "A bike has so many moving parts, you need every part to make it work. It's really a symbol of community."
Addie admits that there are times she would like to charge up a hill and bomb down the other side, but she's found a purpose in maintaining a dedication to her classmates. At a developmental stage where many of their peers are quick to ditch anyone on the outs, these kids are learning to stick together for a common cause. "It's really just about helping each other," says Kasehagen, "and showing kindness."
In an age of airbrushed images, well-framed selfies, and carefully scripted social media blurbs, there's something refreshingly honest about biking. "There's no cheating on a bike," laughs Addie, "you actually have to pedal up the hill."
SBMS sets an impressive standard for melding cycling and education. Adopting cycling as a standard part of youth education on a broader scope would go a long way toward bettering health, honing creative thinking skills, and encouraging empathetic collaboration in our youth. It's an educational shift I'd love to see.