Sports
High School Soccer's Big Loss, Big Win
The Chargers Heartbreaking Defeat; the Dons' Sudden Death Victory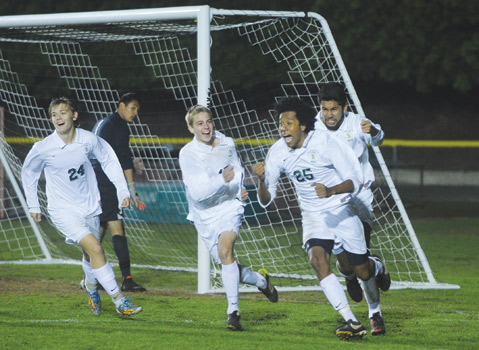 Soccer can be a cruel game. In the CIF Division 1 play-offs against Los Alamitos last Friday, Dos Pueblos High's Chargers went through prolonged torture in a 1-0 defeat, and the Santa Barbara Dons inflicted sudden death in a 1-0 double-overtime victory over Redondo Union.
Dos Pueblos had won the Channel League championship, its first since 1983, beating the Dons twice while going 7-0-3 in the last 10 games of the season. The Chargers hosted Los Alamitos, a third-place team from the Sunset League, in the play-off opener. A sizeable crowd of students and families filled seats on the home side of Scott O'Leary Stadium.
Los Alamitos put constant pressure on the Chargers defense early in the game. DP goalkeeper Alex Mathews made a splendid save on a close-range shot, and then he did something truly amazing. He made diving stops of not one, but two penalty kicks. The first came after a foul in the box, and moments later, a second PK was awarded to Los Alamitos when the ball was cleared off the hands of a Charger. "I wouldn't have blamed him if he sagged a little bit," DP coach Matt York said of his goalie. "He's a fourth-year senior with a lot of emotion."
Mathews's second save, identical to the first but off a different player, stoked the emotions of the crowd, who gave him a standing ovation. But shortly later, the soccer gods turned against the Chargers. A long throw-in found the head of Griffins striker Charlie Ross, and he deflected the ball out of Mathews's reach under the crossbar.
With their 1-0 lead, the Griffins went into a defensive posture the rest of the game. DP's leading scorer, 6'2", 200-pound senior Tim Heiduk, barreled into the congestion on numerous occasions but could not get off a clear shot.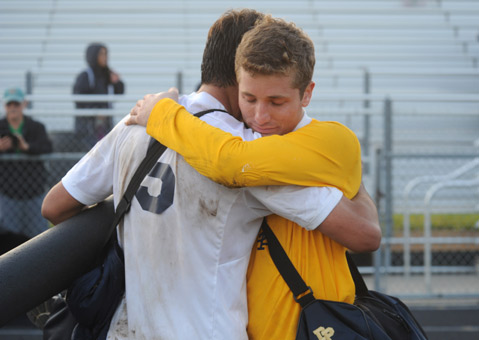 In the immediate aftermath of the Chargers' frustration, their fans clapped heartily, but Mathews scowled. "We lost," he said, tears in his eyes. "I didn't feel like getting applauded." Heiduk, who will play at Westmont College next season, gave his goalie a hug. Mathews began to accept the team's fate. "We did all we could," he said. "You can be the best team in soccer and still get upset."
Santa Barbara hoped to avoid the same disappointment against Redondo Union that evening under gloomy skies at Peabody Stadium. After 80 minutes, the score was 0-0, even though the Dons had peppered the Redondo goal. In the first overtime period, the Sea Hawks became dangerous, and S.B. goalie Angel Cervantes had to make two leaping saves. The battle for survival went into a second overtime. The Dons earned a corner kick late in the period. Sophomore forward Celso Lagunas delivered the ball low and hard across the goal mouth. Ignacio Rendon, one of few seniors on the team, flung himself horizontally and slammed the ball inside the back post for the winning score.
"I hit my head on the post," Rendon said, but he was feeling no pain during a joyous celebration with his teammates. "Welcome to the play-offs," said Dons coach Todd Heil, a veteran of 16 years of these tense affairs. "Sometimes it isn't pretty. [Rendon] had to be willing to throw his body in there."
Cate School and Carpinteria High, a pair of teams in the Division 4 play-offs, enjoyed some breathing room in their openers. Cate, led by UCSB-bound Geoffrey Acheampong, overcame a slow start to defeat Saugus, 3-1, and Carpinteria blanked Compton Centennial, 4-0.
LOVE OF THE GAME: Amid the sadness over the untimely death of Gary Woods, I had to smile at the words of his high school coach. "He's my fame to claim," Joe Mueller said. It was a perfectly imperfect expression. Baseball's tradition of malapropisms is as beloved as Yogi Berra, and Gary Woods loved baseball. It was by dint of his passion that Woods made it to the big leagues, the only San Marcos High graduate to do so.
"He wasn't a bonus baby," said Mueller, who coached the Royals for 21 years. "In his senior year [1971], he didn't even make the first team all-league. It was his mental attitude more than physical skills that got him to the highest level. He wanted to play, he learned the game, and he stuck with it. He matured at City College under Rusty Fairly, and he went up one step at a time."
The outfielder made his major-league debut with the Oakland Athletics in 1976. The following year, Woods took the field as an original member of the Toronto Blue Jays and recorded the second hit in franchise history. During his nine-year career, he also played for the Houston Astros and Chicago Cubs, making postseason appearances with both teams. He was known for his sure-handed defense ― he did not make an error in 117 games with the Cubs in 1982 ― and although his lifetime batting average was .243, Woods was one of the toughest batters Hall of Fame pitcher Steve Carlton ever faced. He hit .348 (16-for-46) against the lefty.
Woods stayed involved in baseball as a regional scout for the Chicago White Sox and as a member of the Santa Barbara Foresters coaching staff during all five of their National Baseball Congress championship seasons. He was the amateur club's only coach who played in the "Big Show," but he did not have a big ego. "Gary was a big man, a strong man, a gentle man, and a sensitive man," Foresters head coach Bill Pintard said. "He was never too big to talk to anyone. He'd help out the worst player, and he'd help out the best player."
Woods, 60, died last Thursday of a heart attack at his home in Solvang, two days after the Foresters lost another member of their family, longtime boardmember Doug Reeves.
There will be a public memorial service for Gary Woods on Saturday, February 28, at 1:30 p.m. at Pershing Park, where he played baseball with the SBCC Vaqueros.
AT LAST: A 48-39 victory over Cal State Fullerton last Saturday ended the UCSB women's basketball losing streak at 29 games dating back to last season.