Film & TV
Review: Zero Motivation
Dana Ivgy, Nelly Tagar, and Shani Klein star in a film written and directed Talya Lavie.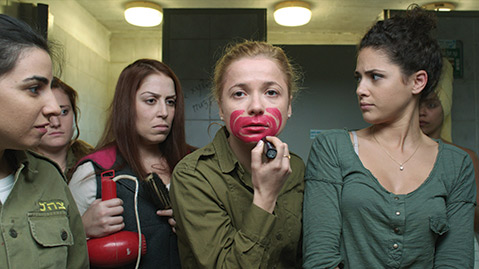 The witty, poignant feature-length debut from thirty-something Israeli filmmaker Talya Lavie, Zero Motivation is an offbeat coming-of-age story set on a remote Israeli Defense Forces base in the desert. Stationed there is a ragtag unit of conscripted young women, who while away their two-year compulsory military service with record-breaking Minesweeper marathons, virginity-vanquishing missions, and other boredom-combating alternatives to their mind-numbing and menial clerical duties, most memorably embodied by a painfully slow paper shredder.
Early into the film, one of the pencil-pushing antiheroines reveals to a new arrival the top-secret location of the base's sole pair of staple guns, and the reverential introduction of these supplies evokes both Office Space and the Chekhovian principle that a gun shown in the first act must go off by the third. By the time the staples start flying in an absurd yet emotionally charged shootout toward film's end, you're not entirely sure whether things will end comically or tragically, an uneasy sensation felt throughout this unpredictable, deft dramedy.
Taking a page from the Pulp Fiction handbook, writer/director Lavie splits the narrative into three stories, each focusing on a different character but all involving the same players. This device — along with the film's sudden tonal shifts, playful camerawork, and clever score — lends Zero Motivation a certain comic-book feel, which is grounded by relatable performances from the female-dominated ensemble and Lavie's smart script. Despite the sometimes surreal, oftentimes jarring breaks from the mundane peppered throughout, this new director's assured style and the more-than-capable cast keep the film's flights of fancy in check and its heart from going completely AWOL