Capitol Letters
Hell Freezes Over
GOP Convention — Finally! — Allows Gay Republican Club into the Party
SACRAMENTO – California's Republican Party stepped into the 21st century, and onto the right side of history, with an overwhelming vote this week formally accepting the gay and lesbian Log Cabin Republican club within the state GOP.
The long-embattled Log Cabin organization won a charter as an official volunteer arm of the party after nearly four decades of working patiently for the Republican cause ​— ​as evangelicals and hard-line right-wingers holding sway over state GOP policy all the while delivered biblical and moralistic denunciations of its members as deviants.
"It's a sea change," GOP consultant Brandon Gesicki, a former strategist for ex-state Senator Abel Maldonado, told The Santa Barbara Independent after the vote. "It's huge." Gesicki spoke amid a joyous celebration by club members and their supporters on the floor of the Sacramento Convention Center following a delegate vote of 861-293 to accept the gay Republicans.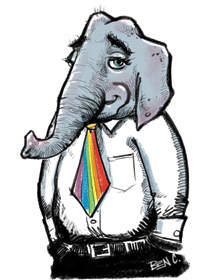 GOP VS. GAYS: As a practical matter, the action is largely symbolic ​— ​but no more so than spiteful actions in the past by allegedly Christian Republicans eager to drive them from the party. One example: At a late-summer 1989 convention, the right-wing California Republican Assembly and then-Orange County congressmember William Dannemeyer fought for adoption of a resolution to banish Log Cabin that claimed most gay people engaged in "rimming," "fisting," and "golden showers."
After Dannemeyer offered graphic descriptions of the kinky sexual practices, a majority of delegates approved his proposal, although not enough to meet the super-majority threshold for such a vote.
On Sunday, Frank Ricchiazzi, a cofounder of the national Log Cabin Republicans in 1977, said that the historic conflicts between the party and gays and lesbians did not have to happen. He recalled to the political website calbuzz.com that at one time in California, "gays and lesbians were registering Republican" in equal percentage to the population.
Ricchiazzi blamed the California Republican Assembly for alienating gays: "We watched the state Republican party diminish in Republican registered voters because of the intolerance of the CRA and poison in the state Republican Party," he said.
As a political matter, however, the Log Cabin vote represented a key victory for state party chair Jim Brulte in his effort to rebuild, re-brand, and restore his party to relevance. Brulte is a hard-nosed veteran pol focused on winning elections rather than ideological debate and is working to make the party more diverse, in gender, age, ethnicity, and religion, by breaking the political choke hold exercised by advocates for inflammatory, out-of-the-mainstream stances on social issues.
"It's evidence they're interested in increasing their voter base and moving in the right direction," said Kevin James, president of the Los Angeles Board of Public Works and a longtime Log Cabin member.
JUST A FIRST STEP: To be sure, the GOP move was modest, if important. To win its formal charter, party leaders made Log Cabin members jump through lots of hoops: The club had to submit more than 100 pages of paperwork and revise their club bylaws to ensure they focused exclusively on furthering the Republican cause and did not violate party rules prohibiting recognition of an organization based on a "special agenda" or "lifestyle preferences."
"It's a big deal," Santa Barbara Councilmember Dale Francisco, sitting with the local county committee, told me. He said the vote shows the GOP "can work with anybody who supports Republican principles," but he downplayed it as "mostly a procedural issue." (The Santa Barbara contingent voted 12-to-1 in favor of Log Cabin, according to vice-chair Bobbi McGinnis).
Many anti-gay Republicans at the convention continued to argue against Log Cabin; some arguments were procedural, others framed in the rhetoric of those who believe homosexuality is a religious abomination. "This is the very definition of moral relativism," a Placer County delegate implored on the floor. "God has absolutes beyond man's ideas."
The most significant obstacle for LGBT people seeking full acceptance within the state party is that the GOP platform at this point still explicitly attacks gay people: "We believe public policy and education should not be exploited to present or teach homosexuality as an acceptable 'alternative' lifestyle," it reads. "We oppose same-sex partner benefits, child custody, and adoption."
Party rules require that changes in the platform may only be addressed at its fall conventions. That fight likely lies ahead.