News
Be a Bunny Hugger
How to Help Rabbits
February was Adopt-a-Rescued-Rabbit month. All across the country, there are tens of thousands of rabbits sitting in animal shelters waiting for their forever home. If you've been thinking about adopting a bunny, now is the perfect time. Check out petfinder.com to find a shelter near you.
If you're not able to adopt a rabbit, there are still many ways to help. Some rabbits wait months, if not years, to find a good home. There are many things you can do to help make their lives more stimulating during their temporary wait at the shelter:
Donate household items. Cardboard paper towel rolls, boxes, paper bags, and even phone books can be donated for rabbits to use as toys. Rabbits love chewing and tossing cardboard objects. You can also donate old towels and blankets, which can be used to line cages.
Donate your time. Rabbits often get overlooked in terms of exercise and socialization. Some of them end up in small cages for months at a time with no opportunity to play, stretch their legs, and socialize. If you have some free time, head over to your local shelter and ask what you can do to help. I went to the Santa Barbara bunny shelter called B.U.N.S. recently with my 2-year-old daughter and 4-year-old son, and we got in every rabbit pen and were able to hand feed lettuce to all the rabbits. The rabbits enjoyed it as much as my kids did!
Donate some veggies. Rabbits require lots of fresh vegetables. Parts of vegetables that you may not eat, such as the tops of carrots, beets and radishes, are great for bunnies. Some farmers markets and grocery stores will collect these parts for you and you can deliver them to some very grateful bunnies!
Use social media. Most animal shelters showcase their adoptable bunnies online on sites such as petfinder.com. You can help spread the word of these adoptable bunnies by sharing their pictures on social media outlets, such as Facebook, Twitter and Instagram.
Foster a bunny. If you can't give a rabbit a permanent home, maybe you can provide a temporary one by fostering. Fostering gives stressed-out rabbits the ability to relax in a quiet environment. Some rabbits may need to be fostered because they are too young or are recovering from an illness.
If you think you're ready to help a shelter rabbit, check out petfinder.com to find an animal shelter near you.
If you live in the Santa Barbara area, B.U.N.S. is a wonderful organization that is looking to find homes for their rescued bunnies. B.U.N.S. is open Monday-Friday, 9 a.m.- 4:45 p.m. and Saturday, 10 a.m.- 4 p.m. They're located at 5473 Overpass Road in Santa Barbara. For more information, check out their website at bunssb.org.
Adoptable Pets of the Week
PeeWee, Angel, and Inky are a special trio of cats awaiting adoption through the Animal Shelter Assistance Program. They were discovered as kittens in a field over three years ago, and were found malnourished, skittish, and in poor health. Now they are friendly, happy, and healthy. Sadly, their human passed away and they've been entrusted to our care. To help keep them together, they are available for a very special group adoption fee.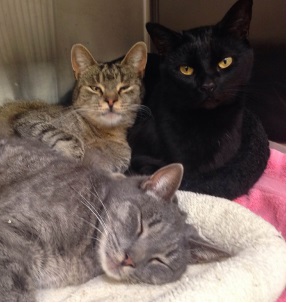 To meet this trio and other available cats needing loving homes, visit ASAP at the Santa Barbara County Animal Shelter, 5473 Overpass Road. Hours are weekdays, 9 a.m.-4:45 p.m.; Saturdays, 10 a.m.-4 p.m. For more information, call the ASAP office at 683-3368 or visit asapcats.org.
Animal Shelter Assistance Program (ASAP) is a volunteer-based, non-profit organization that takes care of the cats and kittens at the Santa Barbara County Animal Shelter. ASAP provides humane care for these animals and works to eliminate the practice of euthanizing them for reasons other than serious health or behavior problems.
The following is included in the adoption fee at ASAP: spay or neuter surgery, flea treatment, vaccinations, microchipping, health evaluation, including testing for Feline Leukemia (FeLV) and Feline Immunodeficiency Virus (FIV). Cats thought to be 10 years or older receive a full blood panel evaluation, thus assuring that the cat is indeed healthy and adoptable, medical and drug coverage through ASAP's vet for two weeks beyond adoption, if necessary, temperament evaluation, and Cat Carrier (you can save the county money by bringing your own).
Lisa Acho Remorenko is executive director of Animal Adoption Solutions, www.animaladoptionsolutions.com