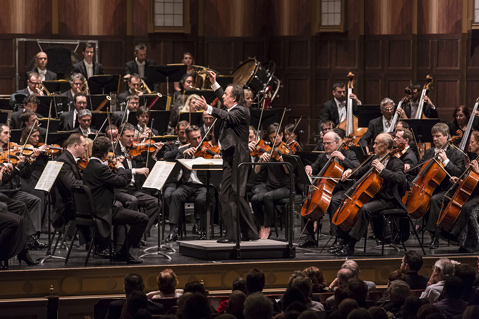 The Orchestre de la Suisse Romande presented by CAMA at the Granada on Monday, February 16. Great orchestras typically have deep connections to at least one major composer. The Orchestre de la Suisse Romande has at least four such historical links, and four were on display in this excellent midseason entry in CAMA's International Series. The OSR's founder, Ernest Ansermet, who started the ensemble in 1918, was a close associate of Ravel, Rachmaninoff, and Debussy, and he conducted important premieres for Igor Stravinsky. Ansermet is of course long gone, but Charles Dutoit, the maestro on the podium for this performance, knew him well and thus maintains that direct chain of personal association with past masters, as do several musicians among the OSR's 112 full time members.
Claude Debussy's Iberia crackles with snare drums, castanets, and burgeoning modernist compositional energy. This is the Spain that continued to inspire 20th century composers through to Miles Davis and Gil Evans, and, although it may have little to do with the indigenous music of Spain, it nevertheless conjures an elegant and sensuous state of mind. This opening piece was followed by the Rhapsody on a Theme of Paganini, Op. 43 of Sergei Rachmaninoff. It gave pianist Nikolai Lugansky a chance to show what he can do with a rhythmically exciting, enduringly familiar score. It's unquestionably a brilliant showpiece for the soloist and the orchestra, but somewhat soulless, at least in comparison the program's other fare.
The evening's highlights both came after intermission. Stravinsky's Song of the Nightingale is at once amazing and bewildering, and one of the more radical entrants in modernism's "machine in the garden" subset of myths. The nightingale fights a losing battle for control of the symphonic poem's development with an automaton—a robot nightingale that seizes the attention of its caretaker, a Chinese Emperor. It's only when the Emperor is near death that he realizes he is better off with a living bird for companionship. Crushing collisions between winds, brass, and percussion result in some of the freest orchestral writing in the first half of the 20th century.
The finale, Ravel's Daphnis and Chloe, Suite No. 2, was as intense and, if anything, more ravishing still than the Stravinsky that preceded it. The OSR achieved a splendid sense of space and depth while keeping the even balance necessary for this most delicate of modern musical confections.