Books
Good Reads: Abroad at Home
National Geographic's New Book Takes Readers Around the World in North America
Experiencing other cultures is just one of the rewards of traveling the world, but as we all know, it's not always feasible to wing your way around the globe. Well, it turns out you don't even have to leave North America to immerse yourself in other nationalities, according to a new book by National Geographic called Abroad at Home. The 200-plus-page tome is full of fun facts, short write-ups, and gorgeous photos of diverse cultural pockets scattered throughout the United States and Canada.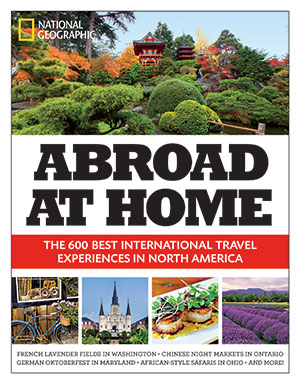 Far-flung places such as Cedar Rapids, Iowa's Czech village; Glasgow, Kentucky's Scottish Highland games; and Butte, Montana's Serbian holidays are featured, but the book also highlights Santa Barbara County's own Danish tourist hotspot. "Welcome to Scandinavia utopia," reads the opening line of the section on Solvang. Its scrumptious pastries, trademark windmill, and Danish Days are all mentioned in the text, as is the history of Solvang's 1947 transition to a "spotless Danish village that blooms like a rose." Illustrating the passage is a sun-soaked image of the street where the aforementioned windmill rests, taken by Santa Ynez Valley resident and professional photographer Tenley Fohl, whose work has been published in the Los Angeles Times, Forbes.com, and Zagat.com, among others.
Abroad at Home is a feast for your eyes — what else would we expect from National Geographic? — but it also offers a delightful peek into the true melting pot that is North America. As such, it's not only an interesting read for armchair travelers but also a useful tool for planning an international-flavored romp around our continent. Better yet, Fohl will be on hand to sign copies of Abroad at the Wildling Museum (1511 Mission Dr., Solvang) on Wednesday, March 18, 5-7 p.m. For more information, call 688-1082.