Voices
Use of Force in the Ukraine
The Moral Dimension of Employing Military Forces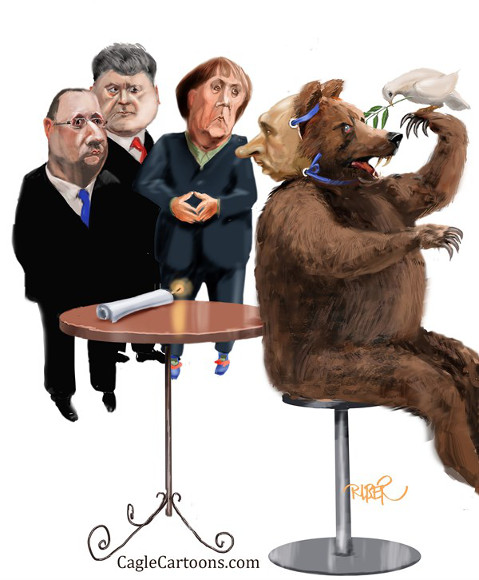 The utilization of military force always commands our attention, especially in countries like the U.S.A. and Germany that uphold personal liberties and democratic governance. Perhaps an invitation should go to Chancellor Angela Merkel, the most powerful woman on Earth, to address the force issue in relation to Ukraine. American citizens need to focus on the moral dimension of deploying our vast military forces abroad, as well as assess whether the killing will work out for our empire and ourselves. We are moral voters in control of a huge military apparatus, but we aren't sure force effectively stops ISIS and Boko Haram. We are the last empire standing, after all, world-weary global cop with over-stretched resources. Ninety-seven years late, Oswald's Spengler's gloomy Decline of the West may be upon us.
If the Russian Federation secretly dispatches some "on leave" soldiers into eastern Ukraine and assists separatists in killing more Ukrainian Army guys from Kiev, as the world's imperial cop we have to loudly reject Putin's sly use of force. Angela Merkel of Germany and the French President François Hollande have led the European Union in absolutely renouncing the use of military power against the Russian aggression. Some in NATO want to advance lethal "defensive" weapons to Kiev, including anti-tank missiles, but Merkel and the French will not accept that.
At a February 7 Munich security conference, Chancellor Merkel stated that using military force by beefing up Kiev's army will not produce the outcome the West desires. "I do think that military means will lead to more victims", she said, and with support from France, she urged President Obama to hold back on sending additional lethal weapons to the chaotic war zone via NATO.
Senator John McCain has called this statement by Chancellor Merkel a type of "foolishness," and soon GOP Senators may dare to send another "open letter" to Vladdy Putin.
Yet no country today speaks with more authority about war and the bad results from abusing military force than the modern German democracy led by Merkel, who has served as chancellor since 2005. After the German debacles of WWI and especially WWII and the wider Holocaust, Merkel accurately reflects the wishes of most 21st-century Germans that neither NATO nor Germany should wage war. It is this philosophical position about using force and violence that separates 21st-century Germans and most Americans. Our worldview is that we are trying to run a global empire and preserve international peace, while Germans are done with "big ideas" like world empire or Communism or Socialism or fervent religious belief. They want a strong economy and decent social welfare. Their abhorrence of war makes postmodern Germany a crucial voice in the EU discussions about how to counter Putin's unrelenting aggressions.
Merkel well understands the uses of state power — she lived under the Stasi in East Germany — and she certainly knows what a bully and opportunist we face in wily Putin. She speaks elegant Russian and has met with Putin many times, usually to little avail. Even so, just prior to February 7, she and Hollande hastily rushed to meet with Putin at the Kremlin, trying to renew the frayed "Minsk" Ukrainian truce agreement (from September 2014). This trip of supplication immediately brought up American cries of "appeasement" and disgust, with references to 1938 when the British PM Chamberlain kissed Hitler's ring in the latter's favorite city, Munich.
After initial reactions to her apparent toadyism, I think we can see that Chancellor Merkel is actualizing a more spiritual 21st-century credo that contends "military force solves little." The Wehrmacht's huge conquests 1939–1943 led to terrible suffering, and the Allies proceeded to stomp Germany and Germans into the ground in 1944–1945, inflicting enormous pain and death back on Germany and in the "Bloodlands." Thus, Merkel views Putin accurately as a 20th-century throwback, one who copies Adolf Hitler's opportunistic international behavior in a few ways. Hitler speciously claimed he had to rescue the three million "Sudetenland" Germans marooned in then-Czechoslovakia (1938), and today Putin not only lies about the invasion, but he also lies in asserting Mother Russia has to protect the Russian speakers in Crimea and the Donbass.
Merkel wants to stop Putin with stronger sanctions, using steady economic pressure, and with more and more conferences. When she unequivocally rules out German or NATO military action against the Russians, she's wise in her refusal to assent to the American imperial preference for using force, and killing some at the imperial periphery.
Yet it's no time for American Sniper heroics or pretending we do all this and spend $600 billion on defense just for "democracy" — admit our empire exists! Merkel points at Vietnam and Iraq and asks those of us who vote in the American empire: Did these military actions produce desirable outcomes for the U.S. and the West? How did Korea and Afghanistan Part 1 work out?
The American debate over force in Ukraine and in the Middle East needs to have a moral dimension, just as David Brooks pointed out in his March 10 New York Times column: "We won't have social repair unless we are more morally articulate." Let's invite discussion about the use of force to settle international disagreements over national borders.
Isrraeli PM Netanyahu has now lectured Congress against Obama's ongoing negotiations with Iran, in support of force. This was his third appearance before Congress, tying Winston Churchill's record. Remember that Merkel and Germany remain good NATO allies with the U.S.A., despite the NSA's inexcusable spying on her telephone. But our current crisis with Putin and his outright invasion of eastern Ukraine surely matches the Middle East in importance since almost 6,000 people have died so far in Ukraine.
Let's invite our good friend, the prudent and wise German chancellor, the longest serving European head of state, to give the EU position on how to meet the Russian invasions of Ukraine without utilizing deadly force, thus saving many lives. Angela Merkel will introduce a moral dimension to our discussion about warring on other humans.
Dan McCaslin has taught history at Crane School since 1980.