Theater
Review: Jack Lemmon Returns at Rubicon Theatre
A Son Recalls and Forgives His Famous Father
The one-person show, in which a famous (usually deceased) artist or celebrity tells us his or her life story, has surely worn out its welcome. Given their contrived setups and formulaic recitals of notable accomplishments, it's difficult to get excited that another such show has come along.
But Jack Lemmon Returns, which runs through this weekend at Rubicon Theatre in Ventura, is different. While it does fall into some of the traps of its predecessors, the evening has an aura of authenticity that keeps it feeling fresh and leads to a quite moving conclusion.
The difference? The show, written and directed by Hershey Felder, is largely about the relationship between a father and son. And the performer, Chris Lemmon, is in fact Jack Lemmon's only child.
Sitting at a piano, Chris opens and closes the show in his own voice. But for most of the intermission-less 90 minutes, he portrays his movie star dad. And it's safe to assume that no one could do it better.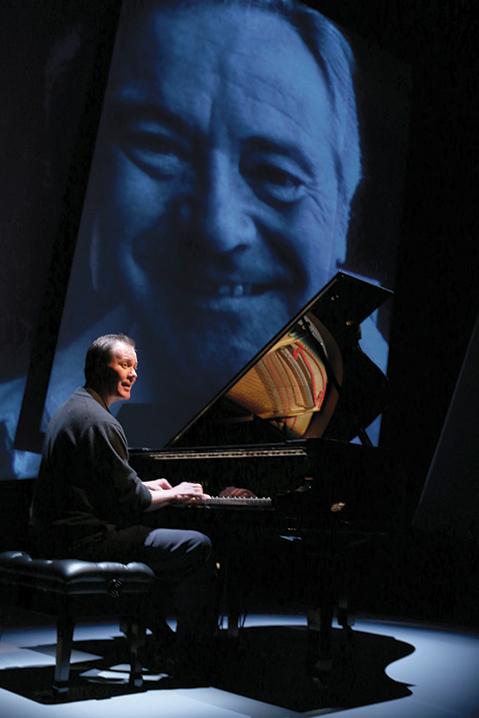 Not surprisingly, he has Jack's physical mannerisms and vocal inflections down perfectly. It's delightful to be reminded just how quickly that man could talk while remaining completely comprehensible, thanks to his perfect diction. When his mind moves so fast that his words fail to keep pace, a combination of expressive gestures and random syllables get the job done.
The monologue proceeds in largely expected ways, from Jack's childhood to his Harvard days, his period as a struggling actor in New York, and finally his long and remarkably fruitful Hollywood career. He re-creates short snippets from some of his finest movies, including Mister Roberts, Some Like it Hot and The Apartment, while telling stories about his colorful costars and directors. His portrayal of George Cukor, on set, repeatedly asking him, "Could you give me a little bit less?" is a self-deprecating gem.
The addict he played in Days of Wine and Roses, he concedes, was essentially a self-portrait. So, in a different way, was the bitter businessman in Save the Tiger. But so, too, were his manic comedic characters. Jack was a complicated man who led a rich life, and this show gives us a good sense of how his energy and impulsiveness both fed his artistic brilliance and precipitated his personal regrets.
Some of the vignettes he gives us, such as those that describe his relationships with Walter Matthau and Marilyn Monroe, are disappointingly superficial. For all his protestations that Matthau was like a brother to him, he has few insights into what made the famous curmudgeon tick, but a sequence in which the young Jack watches, and imitates, French actor Jean-Louis Barrault in the classic film Children of Paradise is magical. (A clip from the 1946 movie is projected behind him.) Barrault, he notes wistfully, managed to get his audience to laugh and cry simultaneously. That became Lemmon's goal, and even though it took a while, he takes rightful pride in noting he eventually achieved it.
The best sequences, however, concern Jack and Chris's relationship. Jack fully admits that, due to his workaholic lifestyle and alcoholism, there were long periods when he wasn't there for his son. The vulnerability with which Chris portrays his father as he haltingly confesses his parental shortcomings is an enormously moving act of empathy.
To really know someone is to love him, and when Chris tells his father at the end that he loves him, it strikes a deep, resonant chord.