Bottles & Barrels
Garagiste Winemakers Unite in Solvang
Small Producers Gather to Pour Rare Wines
The most groundbreaking winemaking work is often done by the smallest of producers, as their artisanal-sized operations tend to withstand more risk and attract more adventurous customers. The hard part is finding where to taste these wines, which is why the 3rd Annual Garagiste Festival: Southern Exposure this weekend in Solvang is a must-do for those in search of the next big (but small) thing.
To get a sense of the more than 60 wineries that will be pouring at events through the weekend, we present these three case studies of California garagistes. All three will be pouring at Sunday's grand tasting, which also includes a seminar about alcohol levels in wine.
Escape from the City: j.brix wines
A bottle of Bien Nacido Vineyards wine attracted San Diego County residents Emily and Jody Brix Towe into the wine business about five years ago. Today, they make about 700 cases of wine, offering a fairly vast array of varietals and styles, from pink pinot gris and sparkling riesling to syrah, grenache, pinot noir, and more.
What are your day jobs? Jody is a horticulturist, and Emily is a writer and enrollment director at a private school.
Is it challenging to live in San Diego but make Central Coast wines? The main challenge is the time on the road, especially at harvest. We spend as much time in the vineyards as possible throughout the growing season. The 5-405-101 route is so familiar that I think we could drive it in our sleep. Close to harvest time, we'll often drive there and back in a day to check on vineyards. We do everything ourselves, including being there for the sunrise picks and trucking the fruit back to the winery, so our long days of winemaking work during harvest are just beginning after many hours on the freeway. We love it, though; it seems crazy (it might be crazy), but it works somehow.
Where do you make it? How often do you come to the vineyards? We make the wine in a shared warehouse facility in Escondido. During the growing season, we travel to the vineyards at least twice a month. Closer to harvest, it's every weekend, and then every few days; it all depends on what the fruit is doing! We pick mainly based on flavors, so it's really important to be there sampling the grapes often as they ripen.
How is the San Diego fruit you work with? What's the potential for that region? We love the carignan from the one San Diego vineyard we work with, McCormick Ranch. The fact that it's still here is somewhat miraculous; it's around 35 years old and has been through two major fires. The vines that survived have all reverted to head-pruned, they're scraggly and so noble, and in true carignan fashion, the fruit gets better every year now that the vines are older. We think the wine it makes is a perfect example of San Diego in a glass; warm, friendly, earthy, and grounded. It tastes like sunshine. That's one end of the San Diego spectrum. The other is exactly that, potential: In the last few years, a lot of vineyards have been planted with careful attention paid to the site, the soil, the microclimate (there are so many microclimates in San Diego), and the varieties that work best with all of those variables. It will take some time to see what happens, but my feeling is that in five years, 10 years, you will start to see San Diego emerge as less of a curiosity and more of a true wine region.
What advice would you give to people who live and work in the city but still really want to make wine at a commercial level? This is a hard one to answer because we didn't start out wanting to make wine at a commercial level. We just wanted to make wine — the best wine we could, and it happened, and then to feasibly keep it going, we had to take it commercial. That's when we found out how much work was really involved in operating a winery versus just making wine. I would say be sure you do it for the love because once it becomes a business and not simply something you're doing in your garage, your non-winemaking tasks increase exponentially. So much paperwork, on so many levels. Sales. Expenses. It can become all-consuming, so make sure it's something you're willing to be consumed by. (Of course, the bright side is that you do get to do a good amount of consuming, yourself …)
Crafting from Afar: Workman Ayer
Though based in Phoenix, Arizona, as an attorney, Michel Ayer comes from a long line of farmers. And his wife, whose maiden name is Workman, hails from a family that's been in the wine business for decades. Together they make about 200 cases of wine annually, split between a white viognier wine and a red blend of syrah, grenache, and mourvèdre.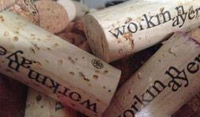 What's the story behind the two family names involved? Ayer is my last name, and Workman is my wife's maiden name. Her family has been in the wine business for about 40 years, and I come from a long line of farmers. We wanted to honor our parents and grandparents.
Is it challenging to be in California for the right times of the growing season, especially harvest? It can be a challenge for harvest, but I have come to accept it. I have the utmost confidence in my consulting winemaker and in the facility where I produce my wines. I am also thankful for FedEx, as it is easy to get samples sent to Arizona during blending and around bottling.
What advice would you give to people who work in the city but still really want to make wine at a commercial level? You have to find people that you trust to work with and be comfortable with the level of hands-on time you can spend. You also have to realize that if there are parts of production that you can't be hands-on for, it will cost you to pay others to handle it. Careful planning is the key, regardless of how much hands-on time you can put in.
Second Careers: tierra y vino
The Garagiste Fest features plenty of people, if not a majority, embarking on second careers. That goes for newbies, such as Los Angeles–based interior designer Caren Rideau, and well-known industry insiders, such as Andres Ibarra, the longtime winemaker at Rideau Winery who left in 2011 to pursue vineyard management roles. Together, they recently launched tierra y vino, focusing on wines from La Presa Vineyard, among others, under the Ibarra and caren brands.
I know Andres was winemaker at Rideau, and I assume Caren must be related to Iris [Rideau]. So tell me how this new venture began.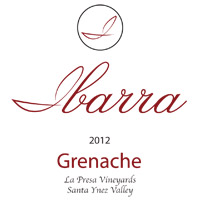 Caren Rideau: My visits to the Santa Ynez Valley began in 1995, visiting my godmother, Iris, who is my aunt through marriage. I helped Iris throughout the early development of Rideau Vineyard, and my love of wine made it a natural transition. As my design business grew, my visits to the Valley became less frequent, but I always kept one hand in the business, for the love. Andres started working at Rideau Vineyard in 2005, which is where we first met and shared our passion for the craft of winemaking. Despite his departure from Rideau Vineyard in 2011, we remained friends and developed our friendship into a life partnership and business.
Was it intimidating to break out on your own after having worked for other wineries in the past?
Andres Ibarra: No, not at all; I was actually quite ready. After having had the pleasure to work with so many great winemakers for so many years, sharing ideas and discussing challenges in the vineyards or in the winery, you realize there is a natural camaraderie between one another, and I realized how much knowledge and confidence I had in the business. It was my next step, and it has always been a dream of mine to see my name on a label.
Caren, what advice would you give for people who live in L.A. or other places away from the vines but who want to be involved in a commercial winemaking enterprise?
CR: I feel very fortunate to have a partnership with Andres, because he is the talent behind the bottle. I have a great amount of trust in his winemaking ability, and when you begin with great fruit that is well taken care of in the winery, there is very little left to do before it goes into the bottle. Andres and I regularly taste the wines while in barrel, discussing the progress and the final outcome.
Because I don't live in the Valley, I feel as though I can offer our business a freshness to marketing. Since we have a small production and no tasting room, I have been developing pop-up wine tasting events that can vary between 50 to 100 persons, showcasing our wines, pairing them with tapas, and marketing them to fresh faces. We have been successful, with two to three tastings a year, hosted by friends and clients of mine through my design business. No matter how far away you live from the vines, you have to remain attached and committed because it is a lot of work to create a brand!
Andres, based on your years of experience, what style of wines do you want to make under this new label?
AI: My goal is to make wine that speaks of the Santa Ynez Valley: the climate and the soil. We have unique microclimates in the valley and have received national recognition for our region. I intend to stay true to these varietals and our areas.
Tierra y vino has the luxury of making wines from grapes that I farm year-round at La Presa Vineyard, which is one of the larger vineyards that I manage. La Presa Vineyard, owned by Eric Caldwell, is a beautiful 50-acre vineyard that I have been managing for 25 years. We are known and sought out by many winemakers because of the care that goes into our farming style. I make sure to farm with no more than three tons to an acre, creating bolder fruits and balanced acidity in the grape.
Because of where the vineyard is situated, coupled with the climate, I will be making mostly Rhone style wines similar to the old world under the ibarra label. I also make a petite sirah from La Presa Vineyard. Under the caren label, we make an albariño, grown at La Presa Vineyard, and a tempranillo I grow at another vineyard I manage in Paso Robles, a hotter climate, better situated for this grape.
4•1•1
The 3rd Annual Garagiste Festival: Southern Exposure features a series of dinners, grand tastings, and seminars this weekend, March 27-29. For tickets and info, visit californiagaragistes.com.