Voices
Deltopia Mayhem Returns
Big, Boisterous Party Too Rank for Taxis
Brace yourself, Deltopia is coming. Every year, the notorious street party is held in Isla Vista around the time of UCSB's Spring Break. This year, it will be April 3-5.
Around 18,000–20,000 people will fill Isla Vista (also known as I.V.) for the weekend celebration. The center stage is the street named Del Playa. It's an infamous drinking party known far and wide. I met a student once who had just gotten off a four-day train ride from Virginia just to experience the party.
While partying might be fun to do while you are young and free, there are certainly some consequential side effects. Vandalism to my car was one of those side effects I experienced recently.
I've been driving for Uber and Lyft for nine months and have kept a strategy of staying away from Del Playa during the nights on weekends. It's just not car friendly. On Wednesday, March 18, it was surging 2.0x for a good portion of the night.
At around 9:30 p.m., I got a ride request from Del Playa.
I noticed the rider had a 4.4 rating. The average rating for riders and drivers is 4.8. At first hesitant, I decided to take it. When I arrived, I called (let's call him "Kush") to let him know that I had arrived. There was no answer. I called again with no answer.
All of a sudden, water exploded in my car. I was shocked as I realized that someone just threw a water balloon from the rooftop. Water was everywhere: on me, the seat, and the dashboard. Upset, I drove off and canceled the ride.
I called Kush, and he finally picked up.
Me: "I just arrived to your destination and a water balloon was thrown at me. It got me all wet, and now I'm pissed off!
Kush: "I didn't do it. I saw someone across the street do it."
Me: "I don't believe you! You have a 4.4 rating, and there's a reason that it's lower than normal."
I hung up and went home.
I let the other Santa Barbara drivers know what happened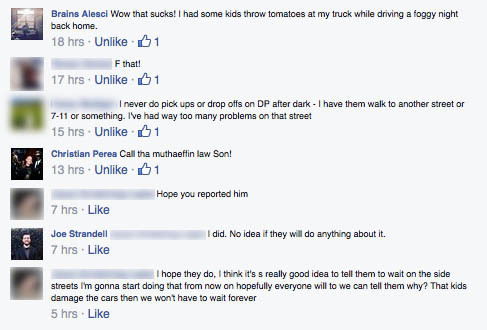 Uber told me that cleaning fee reimbursements were reserved for "messes that require professional services to get the vehicle back in operating order."
It was just water. It could have been much worse. I've heard stories of balloons filled with urine and other nasty things. But, still, it's unnerving that people might call Ubers just to attack and vandalize them.
One thing is certain, I will not be taking my car near Deltopia.
Sometimes, pranking is for entertainment reasons. Howie Mandel's house was TPed by Roman Atwood. It's amazing how cool he kept, even though that was a much bigger mess: the entire front of a two-story house solidly covered in toilet paper.
The moral of the story is that passengers and drivers need to take all the necessary precautions to keep ratings good. And please, no vandalism of my property.