Columns
Deltopia 2015
Shark Films, But No Shark Bait
There was a big buildup to this year's Deltopia celebration in Isla Vista. Santa Barbara County officials, the police, and I.V. residents did not want a repeat of the violence and mayhem that occurred last year. Ordinances were instituted, barriers set up, the beach closed, and police descended on Isla Vista en masse. Thankfully, all the preventative measures worked. Deltopia was a relatively tame celebration this year, with about 10,000 people in attendance.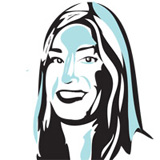 This wasn't by chance. The weather was beautiful this weekend, making the area a potential beacon for partygoers. What wasn't so inviting was the parking situation and the police presence. People looking for parking in I.V. or anywhere south of Hollister Boulevard had to depend on the kindness of their friends, finding a space in a driveway might be the only option. For the few people were able to find a parking space along the street in I.V.; it was like winning the lottery.
Lack of parking opportunities was only one way officials deterred visitors. The City of Goleta instituted a resident permit policy, Camino Real Marketplace banned Deltopia parking, Storke Ranch placed security guards at its entrances, UCSB put up fences around its properties, including in the dirt areas that are normally used for parking, and the university did not sell on-campus parking permits to anyone unaffiliated with the university. With all these barriers placed in their way, it is amazing that any outsiders were able to make it to the Deltopia celebration. Even locals, like me, couldn't find parking along the street.
Another major deterrent this year were the 300 police officers — including over a dozen on horseback — who came in to help. They provided a presence day and night this weekend that made quite a few people sorry they had visited the area.
Police officers sat at the various entrances to I.V. and ticketed people for driving infractions. I witnessed three people pulled over for failing to stop at a stop sign. I heard one guy yelling in the street, upset about a $500 ticket he had just received. Law enforcement officers also ticketed people for alcohol-related offenses. Some were taken into custody, such as a woman who was handcuffed and sat on the street on Del Playa waiting for transport.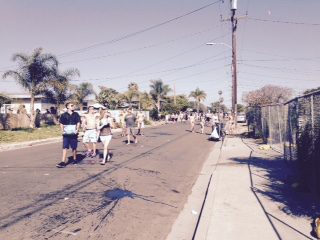 During the day, Del Playa was fairly quiet. People partied in their houses or in their front yards. There was music but not enough to draw crowds that would put the householders in violation of the festival ordinance and make them subject to a $500 fine. There were girls in bikinis walking up and down the street and guys looking at them, but no real rowdiness.
Later on in the evening, people started to come into the area. You could tell they weren't locals. Some even made it known they were from out of town. One young guy walked down Camino Corto asking if others could point him to Del Playa. Some looked unsavory and did not look like college students.
By 9 p.m. Saturday night, the Deltopia celebration wasn't much to look at. Out of towners who didn't know anyone walked up and down the streets looking for something to do, and locals partied with their friends. It was actually quieter than a normal I.V. weekend. There are many reasons for this. One was the festival ordinance that prohibited music between 6 p.m. and 7 a.m. Another was that locals made it clear that outsiders weren't welcome.
Some landlords along Del Playa fenced in their properties and placed bike locks across the entrance. Residents let in roommates and friends, but they closed off their properties to anyone else. The idea of keeping it local has definitely caught on.
In addition to the deterrents, UCSB offered palatable alternatives to Deltopia including a concert featuring Purity Ring at the Thunderdome. Other options included a showing of the movies Jaws and Sharknado with free burritos from Wahoo's.
This weekend proved to be a good sign for the future of I.V. Deltopia tested county officials' ability to find a solution to what seemed like an insurmountable problem. County officials, the police, UCSB and other educational institutions worked together to make this year's celebration as problem free as possible. Keeping it local, limiting parking, instituting ordinances, and having a large police presence seems to have been the key. Let's do this again and again and again.