Arts & Entertainment
PRJ Review: Jon Foreman
Lead singer of the band Switchfoot Takes Lobero Audience on an Adventure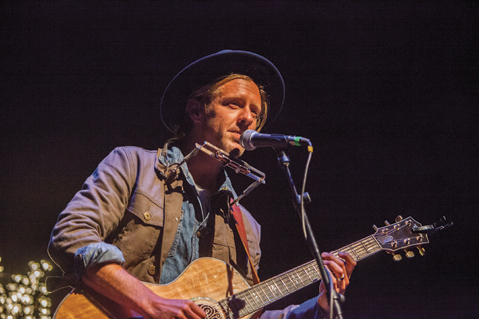 "The motto for this show is there is no motto. The rule is there is no rule, the plan is there is no plan. There are no white lines on the road and I don't know what lane we're in. We're in this together, hurtling through time for the next hour or 12. Are you ready for that kind of adventure?"
This is how Jon Foreman, who daylights as the lead singer of San Diego alternative rock band Switchfoot, introduced his headlining night at the Lobero Theatre on April 10. Joined by cellist Keith Tutt and drummer Aaron Redfield, Foreman and Co. let the audience steer the way on a 90-minute, request-driven mix of unplugged Switchfoot hits and solo songs. Foreman was completely comfortable as the free-flowing maestro, proclaiming, "I love chaos."
The communal, improvised feeling of the set was amplified in the intimate Lobero space, and in a way it felt like a cheery Sunday school service, with Foreman as the cool youth counselor. I mean that as a compliment: There was a real feeling of togetherness. Foreman sings worship music, but writes with a thoughtful and serious bent — he sings of life, death, and the meaning of it all. Christian or otherwise divinely inspired rockers can sometimes deal with these subjects in the lightest of lights, but Foreman shines a bit of shadow on his songs.
Sparse and soft, his radio rock Switchfoot hits were elevated to something more powerful that night. The soul-searching and confessional quality of songs like "24" and "Vice Verses" stood out in their sparseness, tightened by Tutt and Redfield's cello-drum interplay. The band shone brightest, though, in their ability to improvise and move, as when they invited audience members up to play — a guitarist, Gerald, strummed and sang on "Dare You To Move," and one Allie sang beautifully on "The House of God, Forever."
Opener The Workday Release was a little too cloyingly choirboy for my tastes, though he sang with heart and had good a command of pop melody. His performance that night helped benefit OC charity Candles That Care, and as such he was redeemed by a good cause, as we can all only hope to be. Whatever cause or chaos conducted Friday's concert, a spirit of warmth prevailed, with Foreman and crowd all joining in on a cover of Bill Withers' "Lean On Me" as the last encore. It was a fitting sendoff for a show with such a familial feel. Who knew quite how we got there, but there we were, in a room resonant with singing and smiling people, together.