Theater
High School Musical Season Preview
Area Schools Kick into Musical High Gear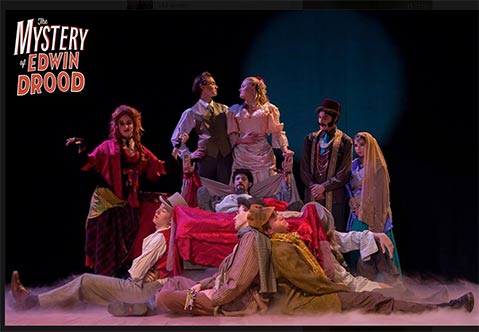 At the conclusion of the Dos Pueblos High School production of Legally Blonde, Parker Sassola, who plays Emmett, kisses Gracie Barker, who plays Elle Woods. It's a classic Broadway musical moment, with the romantic leads downstage center, spotlit for maximum effect. Last Friday night, I happened to be seated next to the Sassola family, and as a result, I experienced the kind of contact thrill that only a real-life high school musical can provide. "We didn't even know he sang!" his sister told me during intermission, and then there he was, her big brother up there onstage kissing the star of the show in front of the whole school. I didn't know whether to squirm, like mom and sis, or scream, like many of his classmates, so I just followed Mr. Sassola's lead and smiled proudly. Chalk up another victory for the big spring musical, one of American high school's grandest traditions.
The last two weeks in April present the opportunity to see no fewer than four high school musicals in Santa Barbara. Legally Blonde, which opened on April 17 at DP, runs through April 25. Young Frankenstein hits the stage at Laguna Blanca School on April 23 and shows through April 25. The Mystery of Edwin Drood, at Santa Barbara High, opens on April 24 and runs through May 3. Crazy for You, at San Marcos High School, opens on April 30 and runs through May 9. All of these shows are 100 percent local productions and represent the culmination of countless hours in rehearsal, stage building, practice, and memorization not only for the students onstage but also for the student crews, the incredibly dedicated teachers, and the supportive parents who will crowd these theaters for the chance to experience the kind of magic I witnessed with the Sassolas at Dos Pueblos on Friday night.
These days, however, parents are not the only ones who will be lining up for these performances. In many ways, the audience for high school musicals has begun to outstrip the one that's willing to pay to see professional shows. It's not just that it's a younger crowd, although at a recent matinee of the musical Tarzan performed by the students of Lompoc High, I was stunned to realize that the average age in the room was likely no higher than 11. What has happened with high school musicals is actually much bigger than that. Blame it on Glee, blame it on Disney's High School Musical franchise, or even hold American Idol and The Voice responsible, but any way you figure it, the energy and interest in these shows among the general public is rapidly on the rise. A recent Wall Street Journal article described a New York couple with no children performing who had managed to see 17 high school musicals this year. While that would not be possible for someone attending solely those shows staged in Santa Barbara, add in Ventura, and you could easily equal it.
Part of the excitement comes from the high stakes involved for those at the very top. Talented high school performers who appear in these well-funded, beautifully presented productions are often only a year or two younger than their professional counterparts, especially now that shows featuring teen lead roles have become more common. The distance from Santa Barbara to Broadway has never seemed so slight.
In the interest of promoting this fantastic expression of collective effervescence in our community, The Santa Barbara Independent has teamed with Ensemble Theatre Company, the Rubicon Theatre in Ventura, the Santa Barbara Foundation, and the Nederlander Organization to create the National High School Musical Awards of Santa Barbara and Ventura counties. Now in its second year, this event, which will take place at the Ensemble's New Vic on Monday, May 11, serves as the first round in a series of contests leading to the Jimmy Awards, the National High School Musical championship event held every June on Broadway in the Minskoff Theatre.
Last spring, the Santa Barbara and Ventura winners, Camille Umoff and Jenikka Nunag, went on to compete against the best singers and dancers in all of Southern California at the Jerry Herman Awards on the Pantages stage in Hollywood. The event held here, which featured two full production numbers and a dozen solos and duets by the best performers from high school musicals in Santa Barbara and Ventura, was a great chance for those who might not have had the time to see every single show in the area to check out what each school had done for the season. It was also an unforgettable opportunity for the students and their teachers to come together, to share the experience of singing these great songs one more time, and to connect with their peers from other schools, something that the rigorous schedules they must meet during production tends to preclude.
The following short previews are intended to give a little flavor of what to expect at each of the four shows happening in Santa Barbara right now. For more information about the awards and show on May 11, keep watching this space.
Legally Blonde at Dos Pueblos. Through April 25. Clark Sayre and Gioia Marchese have truly outdone themselves with this fizzy pink blockbuster. In addition to the excellent leads, the show has wonderful, juicy parts for a half-dozen more players. Standouts include seniors Blaine Sayre as Aaron and Elle's dad, the amazing Luana Psaros as Paulette, Keri Parsons as Vivienne, and junior Sofia Ross as Margot. The show is a riot from start to finish, and has more big laughs than virtually any new musical in memory. As long as you don't go expecting everything (anything?) about it to be realistic, Legally Blonde makes for a great night out.
Young Frankenstein at Laguna Blanca School. April 23-25. Theater instructor and Santa Barbara native Kate Bergstrom scored a hit last year with The 25th Annual Putnam County Spelling Bee, and she's back this spring with stars Valeria Rodriguez, Bea Tolan, Mitchell Gravelle, and Mathew Goldsholl. This wacky musicalization of the Mel Brooks movie is the most ambitious show yet for the small private school. Expect plenty of laughs and top-notch singing, acting, and choreography.

The Mystery of Edwin Drood at Santa Barbara High School. April 24-May 3. Aaron Linker, who starred in SBHS's fall production of Big Fish, is back, and so is 2014 High School Musical Award winner Umoff, who will play the pants role of Edwin Drood in this fascinating musical by pop hit maker Rupert Holmes. Every night, the audience gets to vote on which ending will be used, so go back! It's likely to be a different show than the one you saw the week before. Veteran director Otto Layman has made Santa Barbara High into a perennial theater powerhouse, and this show, with its sophisticated play-within-a-play structure, promises to be a masterwork.
Crazy for You at San Marcos High School. April 30-May 9. Director Riley Berris makes her musical debut with this classic, which includes some of Broadway's most famous songs and tons of tap dancing. Berris was handpicked by San Marcos legend David Holmes as the successor to his 30-year dynasty last spring, and she brings top-notch professional training and the energy of youth to this distinguished program. Crazy for You is an irresistible show, and the Royals plan to make it exciting.