News
District Elections: Wild Hair Gets Comb-Over
Judge Dismisses Last Hold-Out in District Elections Settlement
Cruzito Herrera Cruz got nowhere fast with Judge Donna Geck in her courtroom Friday morning as he waged his one-man crusade to derail the recent settlement of a California Voting Rights Act lawsuit brought against the City of Santa Barbara. Beginning this November, the city has agreed to start electing councilmembers by district, as opposed to at-large across the entire city. What makes Cruz's campaign notable is that he was one of the five plaintiffs to sue City Hall last year alleging that at-large elections yielded racially polarized results as defined by state law. The other four plaintiffs all signed the settlement agreement, which guaranteed that two of the six newly created districts would have a majority of Latino voters. Two of the plaintiffs have already indicated interest in running for the Eastside District — one of the two Latino districts — in the upcoming election.
Judge Geck deemed Cruz's legal action "moot," ruling: "The settlement agreement and final judgement have given Cruz and the other plaintiffs everything they sought in this action." Given that City Hall had already capitulated, Geck found there were no other remedies Cruz could obtain and dismissed his motion.
In court, Cruz objected he had not been given notice of Friday's hearing. Geck replied, "I don't think that's correct." He insisted, "I do think that's correct."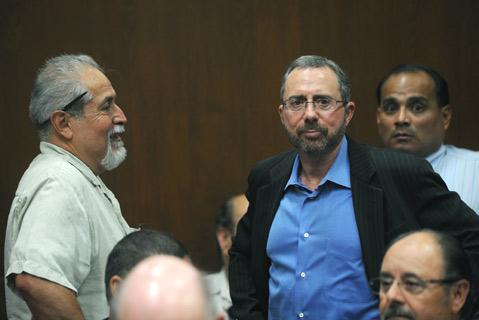 Cruz — an underdog crusader for Latino rights and frequent candidate for the City Council — has cut a mystifying figure in recent months. His fellow plaintiffs and their attorney Barry Cappello have expressed frustration with his opposition, bafflement over his reasons, and anger for his alleged refusal to communicate with them. Cappello had Cruz discharged as his client after countless efforts to communicate came up short. In those actions, Cruz also claimed he had not been given proper notice, but Judge Geck — citing his appearance in her courtroom — deemed that not credible. Cruz then sought to have Geck disqualified from hearing the case, but Geck rejected that as well.
In court Friday, Cruz cited a flurry of procedural reasons why his case shouldn't be dismissed and for the first time in public hinted at a more substantive concern. He argued that the demographic studies conducted by both sides to determine the extent to which racially polarized voting exists in Santa Barbara were sufficient to justify three "majority minority" districts, not two. Given that Cruz never filed any arguments with the court — and that he steadfastly has refused to talk to this reporter — it's unclear what the basis of this claim is. In email exchanges between the plaintiffs and their attorney before the settlement, Cappello made clear his concern that if the case went to trial, the plaintiffs might secure only one "minority majority" district.
Geck's ruling provides the final cherry-on-top to a settlement that was for all practical considerations thoroughly settled. Not only did the council draw up the six district boundaries, but it authorized payment of $677,000 to Cappello for legal fees and other expenses. This November marks the first time in 50 years that councilmembers will be elected by district with three seats up for grabs. Of those, two are currently occupied by incumbents who will seek reelection, Cathy Murillo on the Westside and Randy Rowse on the Mesa. Thus far, no challengers have announced their intention to oppose either. The other seat — representing the Eastside — remains wide open, and one of the district election plaintiffs, Jacqueline Inda — has announced she intends to run for it. Another plaintiff, Sebastian Aladana, expressed keen interest but has not declared.