Business
All About the Entrepreneurs
Spirit of Entrepreneurship Gala Honors Businesswoman and Raises Money for Next Generation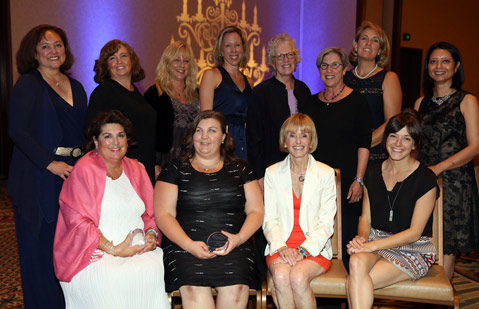 The ballroom of the Fess Parker Doubletree was buzzing with excitement on the evening of May 8 as friends and family gathered to honor Santa Barbara's most successful business women while raising funds for high school and collegiate entrepreneurs. It was the Spirit of Entrepreneurship's 5th annual award ceremony and the biggest yet, with more than 90 nominees and 260 attendees, said Cathy Feldman CEO and board chair of the nonprofit Spirit of Entrepreneurship Foundation.
A loud applause broke out when Feldman announced each of the 33 female finalists. Their businesses, she explained, grossed $47 million dollars last year and together employ over 685 people, mostly in the Santa Barbara area. Out of these 33 finalists in categories such as health, hospitality, non-profit and agriculture, 11 were to be announced winners by a panel of independent judges who reside outside of Santa Barbara.
As well, nine students from Santa Barbara City College's Scheinfeld Center for Entrepreneurship & Innovation were given the opportunity to pitch their award-winning business plans to the public. Tables lined the room showcasing the student innovations.
First place winner out of the high school students was the poised Mackenzie Fell, a Santa Barbara High School junior and founder of Fell Design. Fell was awarded $1,000 for her graphic design, marketing, and social media management business. "I plan to use the money to launch my business and pay for creative clout," remarked Fell.
Second place winner, Sarahy Guzman from Lompoc High School, handed out samples of her delicious gluten-free cupcakes while discussing dreams of opening up a storefront for SGC Gluten-Free Bakery, which is currently being run from home.
Among collegiate finalists was Doni Nahmias, founder of Fortune Clothing. Nahmias was last year's 1st place winner with his retractable surfboard leash. Due to a technical flaw, Nahmias decided to change directions with his business and launched a clothing line. Today Fortune clothing is a fashionable menswear line that is manufactured in Santa Barbara and can be found online as well as in several retail stores.
Lynda Weinman, co-founder of the Carpenderia based Lynda.com, an online source of education services, was the MC again this year. "What I love about Santa Barbara is that we're so community oriented," said Weinman before going on to announce the winners.
The women winners are:
Rock Star: Life Achievement
Dorothy Largay, Linked Foundation, www.linkedfoundation.org
Agricultural/Wineries:
Kimberly True, True Nature Design, www.truenaturedesign.com
Emerging Business:
Dr. Elizabeth Wisniewski, Genuine Chiropractic, www.genuinechiro.com/
Green/Social Entrepreneurship:
Marge Cafarelli, Alma Del Pueblo/The Public Market, www.almadelpueblo.com
Health:
Sandra Hirsch, Isolite Systems, www.isolitesystems.com
Hospitality/Tourism
Lynette La Mere, Pure Joy Catering, www.purejoycatering.com
Media/Communications:
Kim Wiseley, Flutter Magazine, www.fluttermag.com
Nonprofit:
Marsha Bailey, Women's Economic Ventures, www.wevonline.org
Professional Services:
Lisa Grossmann, Nannies2Go, http://nannies2go.net
Retail:
Ann Pazier, Santa Barbara Gift Baskets, www.santabarbaragiftbaskets.com
Science/Technology:
Anupama Vaid, ParentSquare, www.parentsquare.com
Wholesale/Manufacturing/Global Trade:
Kristin Fraser, The Grapeseed Company, www.grapeseedco.com