Arts & Entertainment
Impact X Inspires Goodwill Work
Paksy Plackis-Cheng Publishes Book, Hosts Inspirational Panel of Thinkers and Doers
Paksy Plackis-Cheng arrived in Santa Barbara more than a decade ago because of her private-sector ties to Software.com, but the region's vibrant nonprofit community is what made the Dutch marketing and management executive stay. While serving on the boards of the Santa Barbara Symphony, Opera Santa Barbara, and other organizations, she realized that amid the media's "shock and awe of what goes wrong everywhere," there were a lot of inspirational stories to be told about people working to improve the world.
"I saw this incredible community building, people with incredible life stories and a great commitment to giving," she explained. "It really inspired me to get the next generation involved."
The result is Impact X: From Inspiration to Impact, a coffee-table-style book that features interviews and photographs of 15 inspiring individuals from Santa Barbara and San Francisco to New York and Holland who are involved in everything from animal welfare to youth development. "I didn't set out to prove a thesis, and I don't really care what your passion is," she said. "I just want to show you that there is a lot going on, so you can get plugged in. There's a spot for everybody. Your voice matters."
To hammer that point home, Plackis-Cheng is hosting a thought-provoking collection of speakers at the New Vic on May 19, 4-6 p.m., with Stanford's Marcello Palazzi (who cofounded B-Lab Europe); MacArthur Award–winning teacher Amir Abo-Shaeer, founder of the Dos Pueblos Engineering Academy; Dr. Bruce Chernof, who is chair of the Federal Commission on Long-Term Health Care (and proprietor of Ojai Alisal wines); and Westmont grad Teresa Law, who, with Daniel Spitzer, runs Mountain Hazelnuts, which is expanding agriculture in Bhutan.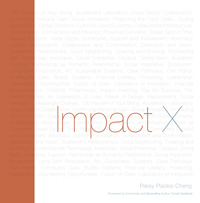 She hopes the event will be driven by attendees. "I want to have a dialogue with people in the audience putting the panelists in the hot seat, asking, 'How did you get there? What have you done? Where are we going in terms of education, health care, and business?'" explained Plackis-Cheng, who continues to solicit impact stories and may bring the project to other cities. "I want to talk to more people who make a difference in whatever space there is," she said.
See impactmakersx.com.