Visual Arts
Review: The Declarations of Independents
Sullivan and Goss Group Show Focuses on Women of Modernism
This excellent group show demonstrates the ongoing commitment of Sullivan Goss, An American Gallery, to researching and rewriting the history of American art. Although by now many women artists have cracked the boys' club of art history, there's a tendency for their efforts to appear as isolated exceptions to the dominant male narrative, as with Georgia O'Keeffe, or as pendants to the life stories of their more famous spouses, as in the case of Lee Krasner Pollock.
For this exhibition, curator Jeremy Tessmer has focused on the art of strong women modernists active between 1915 and today as a way of both proclaiming the high quality of their work and of indicating the all-important social context that made the creation of modern art so appealing and important to progressive women beginning in the second part of the 19th century. At a time when women were still denied the vote and had to live within constraints on their public behavior that today seem profoundly sexist, the study and practice of fine art offered an opportunity to evade the claims of a society that preferred women to take a secondary role in virtually all activities outside the home.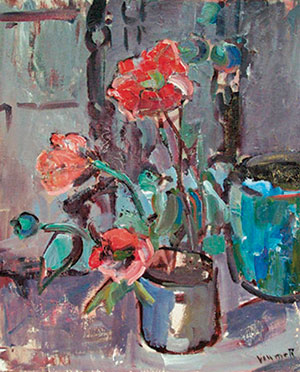 In the early 20th century, Santa Barbara proved a hospitable place for independent women to pursue their interest in art without having to leave the United States. For Lyla Harcoff (1883-1956) and Grace Libby Vollmer (1884-1977), for example, downtown Santa Barbara was, from the 1920s through the 1950s and beyond, an ideal location for a painter's studio, with its comfortable climate and abundant light supplemented by a thriving art scene populated by sympathetic souls of both genders.
Restricted from conventional life drawing classes due to the simultaneous presence of men and nude figure models, these women were forced to realize their ambitions in seemingly less-provocative genres such as still life. Looking at Vollmer's "Tulips and Watercan," which was painted in 1942, or any of the other paintings she did of flowers while working in her De la Guerra Street studio, it's easy to see that the absence of naked human flesh did nothing to stop her from apprehending and expressing the angular edginess that was one of the aesthetic signatures of the modernist movement. Vollmer imbues her subjects with the painterly vitality and gestural daring associated with her mentor Hans Hofmann, but she typically does so under the guise of "minor" genres, such as the still life.
In fact, the sense that it is possible to embrace progressive aesthetic tendencies under cover of traditional subject matter can be felt in many of the images in this show, including those by contemporary artists and those by artists from elsewhere in the United States. Betty Lane is primarily associated with New England, where she painted and taught art. Her "Portrait of Holly" is a colorful composition that represents a dark-haired woman in white shorts and a tank top reclining on a chaise longue at the beach. The bright, relatively unblended colors and the picture's simple yet powerful geometric composition recall Matisse, but there's an undertone of women's liberation in the unmistakable exaltation in her independent pose.
Perhaps the most exciting entry in this consistently satisfying collection of images is a large portrait of Martha Mitchell by the well-known painter Alice Neel. With her blonde hair piled loosely on her head to reveal a familiar pair of pearl earrings, Mitchell confronts the viewer with her direct gaze and jaunty half smile. As an anchoring presence in this collection of "Declarations," the famously talkative Watergate whistleblower stands for all the ways in which women have found themselves able to resist the ongoing cultural demands for self-censorship