News
Gaviota Oil Spill Official Responders
How the Refugio Oil Spill Was Discovered and Who Came to Clean Up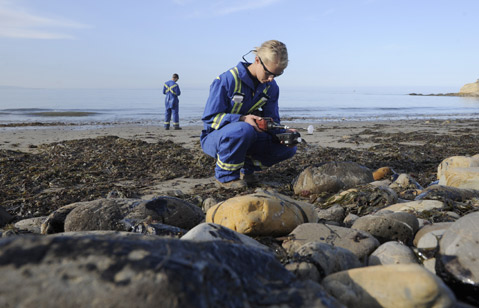 U.S. Coast Guard Admiral Joseph Servidio paid a visit to the county's Office of Emergency Management headquarters three days after Line 901 leaked tens of thousands of gallons of crude onto the coastline. His appearance came after Supervisors Doreen Farr and Janet Wolf put heat on federal agencies for not incorporating county resources in the cleanup response and after some public frustration that the process appeared slow from the get-go.
Because the oil poured out of the underground pipe onto the sand and into the sea, the Coast Guard and the Environmental Protection Agency (EPA) took the lead in the cleanup, acting as unified commanders. A host of other agencies, including Clean Seas, the California Department of Fish and Wildlife, and various county departments worked under them.
Clarifying exactly what time agencies responded to the scene has been difficult, as submitting a question to the Joint Information Center (JIC) ​— ​stocked with about 20-25 public information officers from various agencies at any given time ​— ​has been almost as taxing as placing a customer complaint with Costco.
As of press time, here is what this reporter was able to gather: The U.S. Coast Guard was first notified of the spill at 12:39 p.m. last Tuesday, May 19. At 2 p.m., a two-man team out of the Marine Safety Detachment at the Santa Barbara harbor got to the scene and called for backup.
Essentially the area fire department for oil spills, Clean Seas dispatched three 65-foot vessels, each equipped with 1,500 feet of ocean boom on Tuesday afternoon. The first boat descended on the scene at about 2:45 p.m. Once it got there, said Clean Seas general manager Ike Ikerd, the crew of three tested the affected area to see what chemicals were in the oil to ensure it was safe to boom. The Coast Guard and Clean Seas flew helicopters overhead.
Fish and Wildlife arrived in the early afternoon. The Coast Guard's National Response Center was notified of the spill at 1:43 p.m. and 2:56 p.m., according to federal documents.
By 3:30 p.m., another person from the Coast Guard arrived. It wasn't until 7 p.m. that seven more Coast Guard personnel were able to make the trip up from Long Beach. By that time, well-known environmental attorney Linda Krop had already been on the scene for 30 minutes, appalled that an orchestrated operation did not appear to be underway. Part of the problem was immediately protecting the ocean, she argued. "It's just such a bizarre response," said Krop, who probed officials at the press conferences held twice a day in the days following the spill.
Krop contrasted what she witnessed to a response after a 170-barrel spill at Sandpiper Golf Course in 1994 when crews had immediately built huge berms to contain the oil.
A JIC spokesperson could not say how many response boats were on scene Tuesday. According to Ikerd, Clean Seas' three boats deployed boom that first night. Fish and Wildlife were on scene until about 11 p.m.
Refuting arguments that the crews didn't work overnight on Tuesday, Ikerd said vessels have to go in at night because high winds make it unsafe. "It's not productive," Ikerd said. We're "out at first light," he added. On Wednesday, Governor Jerry Brown declared a state of emergency for the county; responding teams were given the approval to work 24/7, but he said that was only for land cleanup.
The next day, about 250 response personnel in white body suits and nine vessels were working, and in the following days, that number jumped to 600 people, 19 boats, five SCAT (shoreline cleanup assessment technique) teams, three skimmers, and one barge. Over the weekend, the fire department's hand crew was trained to assist in the cleanup.