News
Dispute Between Neighbors Turns Murderous
Rudy Collaso Arrested for Chasing Man With Ax, Then Destroying His Home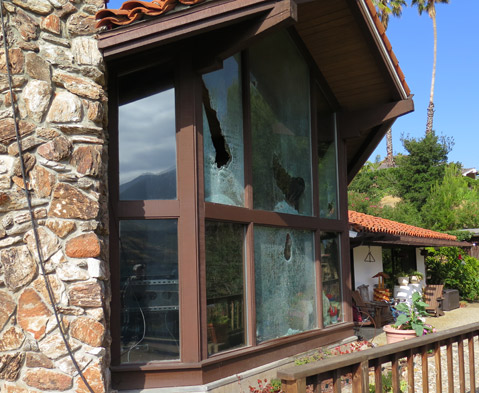 Police arrested Santa Barbara resident Rudy Collaso on Thursday after he threatened to kill his neighbor, chased him with an ax, then proceeded to destroy the inside of the terrified man's home as he escaped and hid in a nearby hay shed.
Collaso has been charged with attempted murder and burglary, and he will be arraigned Wednesday. The Santa Teresita Drive home sustained more than $100,000 in damage, police said.
The violent scene began unfolding around 8 p.m., when Collaso, 54, and his neighbor, Dan Najera, exchanged heated words over their backyard fence. "I took the bait," Najera lamented.
Najera's parents had been feuding with Collaso for years over tree removal, a landslide, and a lawsuit, Najera said in an interview with The Independent. "This has been brewing for a long time," he said. Collaso lives with a woman who owns the next-door property, and he's known around the neighborhood off Ontare Road as a loose cannon. "Everyone knows he's crazy," Najera said.
As the argument escalated, Collaso swiftly approached Najera's home through a side walkway. Collaso began shouting in Najera's face, accusing Najera of poisoning him and one of his trees. Collaso then ran back toward his garage, grabbed an ax, and made straight for Najera.
Najera said he turned and fled inside his house through a sliding glass door that leads into his father's study. He locked the door behind him, closed the curtain, and started to retreat further into the home when he heard Collaso yelling and smashing through the glass door with his ax. Najera said he considered grabbing one of the rifles his father keeps in the study but that he didn't have time. He ran outside through another door and called 9-1-1 as he hid in a hay shed.
Once inside the home, Collaso proceeded to break windows, hurl bottles, and demolish everything in sight. A female roommate was present in the house at the time, Najera said, but Collaso ignored her. If his father had been home, Collaso surely would have killed him, Najera said.
Najera claimed Collaso had previously served eight years in prison for second-degree murder after he stabbed a man to death with a screwdriver. Authorities confirmed Collaso has violent offenses on his record, but they wouldn't elaborate, citing confidentiality laws around criminal histories and their investigation of the current case.
As Najera hid, he heard responding officers order Collaso out of the house. "I was expecting to hear a gunshot," Najera recalled. Instead, Collaso was arrested without incident, a police spokesperson said. Officers reportedly found a large knife on his belt and two throwing knives in his fanny pack.
Deputy District Attorney Arnie Tolks is prosecuting the case. It's unclear if Collaso has secured an attorney.
Najera said he remains shaken by the incident but grateful he escaped Collaso's rampage. "I was almost axed to death," he said.